Social Connections: Seek Out Connection & Conversation To Boost Your Well-Being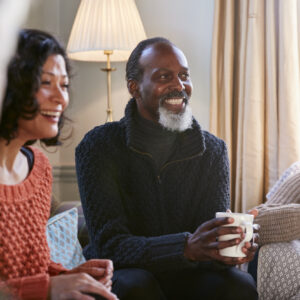 Social Connections: Seek Out Connection & Conversation To Boost Your Well-Being
May 3, 2023
You may not be an extrovert, and you may shy away from casual conversations with those you don't know well, but if you're human, more and more research underscores the importance of social connections for your health and well-being. You may think your time for making friends or connecting socially is largely behind you. Certainly, most of us have probably lost a step or two (or a friend or two) from the several years of COVID lockdowns and limited social engagements. But as experts make clear, "It's never too late to make meaningful relationships," and even casual connections count when it comes to benefits for your physical and emotional health.
First, let's look at some recent studies. Coming out of the University of Kansas and published in the journal Communication Research, a new study makes clear that even just one daily conversation with a friend or acquaintance can both increase your feelings of happiness and lower your stress levels. You don't need a deep conversation or exhaustive discussion to get this benefit. Even just a brief catch-up or outreach to let someone know they're in your thoughts can make all the difference, though the more you connect the more benefit you'll gain. Researchers in this study emphasize that face-to-face conversations, rather than virtual ones, matter a lot. So put down your smartphone, schedule an in-person catch-up, and read more here. Another study of 28,000 older adults in China (with an average participant age of 89) found that regular, daily social contact is critical for health among older adults. In this study, those participants who socialized with others every day were nearly 60% less likely to die in a given year than those who did not socialize at all. As one researcher made clear, "Social participation was a strong protective factor of health and longevity for older people." While the researchers were unable to prove that socialization caused a longer life, the correlation is in keeping with other studies that have found those who are actively social have less chance of developing such diseases as depression, heart disease, or dementia. You can read past agebuzz posts describing the health benefits of social connections here.
So how do you form new connections if you're in need, or support those connections you may already have? Writing in Next Avenue, Kerri Fivecoat-Campbell described the loneliness and lack of social engagements she faced once she became a widow. Her solution? Form your own social group, which is precisely what she did both virtually and in person. The benefits to her were not only better health but an increase in physical activity and participation in a greater range of activities. A recent column by Paula Span in The New York Times describes an example of casual contacts made from meeting at a dog park that went on to become real friendships, along with being sources of practical help and support. She describes these casual acquaintances as "weak ties" but even these less-than-long-standing relationships can help you thrive and feel connected to others. As one expert tells Span, "You can't create new children at 70, but you can create new weak ties." Similarly, a recent column by Kaiser Health News journalist Judith Graham underscores the value of social networks for emotional closeness and health benefits, but also to gain new information, insights, and social support. So with the spring weather here, and the opportunities for social connection ever present, do yourself, your body, and your brain a favor and reach out and connect- even your daily good morning to your local barista is a good way to get a benefit.