Shape Up: A Conversation With Certified Personal Trainer Sara Frederick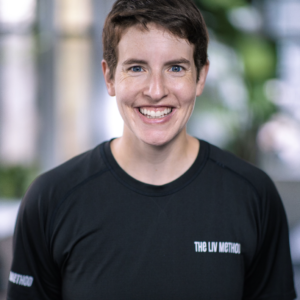 Shape Up: A Conversation With Certified Personal Trainer Sara Frederick
August 11, 2021
By now, you know how important movement and exercise are for your health and well-being. The problem is, depending on your current state of health and fitness, it may be a challenge to figure out what's the best form of exercise. As we age, our bodies and abilities change and shift, so what we were able to do a few years ago may need to be modified or even replaced depending upon how capable we currently are. Perhaps the best way to sort this all out is with some professional help, i.e., a personal fitness coach or exercise trainer.
Hiring someone to be your personal trainer is as much an art as a science. As with any service provider, there are different qualities and characteristics that will appeal to different people. Some may only want a trainer who's a peer, meaning someone who's an older adult (but be forewarned: older trainers are few and far between). Some may be primarily guided by cost or convenience, either desiring someone very local or a trainer who works with you online. Previously we've posted on the possibility of turning to a trainer, including a link to a long list of questions you may want to pose before trying someone out. There's no doubt that a trainer with whom you enjoy working will get you motivated to move and will teach you the best fitness options for your unique situation. 
With that in mind, we'd like to introduce you to our newest agebuzz guest blogger, Sara Frederick. Sara is a 33-year-old certified personal trainer based in New York City. With clients both young and older, she has the experience and insights to understand what clients of different ages and abilities need in order to feel and move their best. Sara offers in-person coaching in New York City, as well as virtual and remote training online. What follows is a recent conversation between agebuzz Founder Connie Zuckerman and Sara, to explore the concept of working with a personal trainer, as well as Sara's own approach to exercise and working with older clients.
CZ: Sara- Thank you so much for taking the time to speak with us about exercise, fitness, and personal training for older adults! First questions for you: Can you tell us a bit about yourself? Your background, education, what led you to become a personal trainer? What kind of training do you have?
SF: I have been a personal trainer for almost 6 years. I am certified through the National Academy of Sports Medicine (NASM) and have a BA in Biology as well as a BS in exercise science. I am currently back at school for a graduate degree in Nutrition.  I have trained clients using various modalities and have taken courses in functional training, pre/postnatal, TRX, and Kettlebells. I became a personal trainer after losing weight myself. I figured if I could do it, anyone could! 
CZ: What types of clients do you train? How do they make their way to you? What motivates them to seek out a personal trainer? Is it expensive?
SF: While I am happy to train anyone, my typical client is someone who has had injuries in the past. Whether they have had surgery or have been injured as a result of sports or trauma, I try to help them get back to moving as best as they possibly can. I currently work at a private training facility in New York City. Most of my clients have had trainers in the past and have had both good and not so good experiences with their previous trainers. My goal is to make sure everyone leaves a session feeling better than when they came in. Prices for personal training can vary, depending on the location and experience of the trainer. The up-front cost can be anywhere from $80-$150 per session, on average. While this may seem expensive, chronic issues like high blood pressure, diabetes, and heart problems will cost you much more over time.  
                                                                                     
CZ: Specifically regarding older adults: What types of issues are most common among the older clients you train? What do you focus on with your older clients and what do you worry about regarding their fitness and exercise routine?
SF: The most common issue I see with older clients is a lack of basic movement.  Common injuries include knee replacements, tears of various ligaments, shoulder surgeries, and heart rehab. Honestly, I train each client in a way to make them stronger without getting injured. So the exercises for a 70-year-old client are not that dissimilar from a 30-year-old client. Basic human movement patterns are the main focus, including squatting, hinging, pushing, and pulling. We just might go at a slower pace for older clients in order to limit injuries. 
CZ: What are the most common areas of the body that you work with when helping older adults? What are your typical goals with older clients?
SF: Most older active adults have lost some balance over the years, with falling being a big issue. So this is my priority. I want my older clients to be able to be as active as possible. This means we work on building strength and endurance.  
CZ: Is it necessary for an older adult to work with a personal trainer? Can they achieve their exercise goals in a class or working by themselves at the gym or even in their own home? What are the risks of working on your own without instruction?
SF: It really depends on your level of fitness and your exercise history, as well as your prior injuries. I think everyone should work with a trainer, which is why I even have a trainer! It also depends on your fitness goals. If you want to be more active, you can achieve that by walking more. But if you have serious health issues or injuries, it is always best to speak with a professional.
CZ: What are the most important pieces of gym equipment for older adults to use when working out? What if you don't have the budget or room to own such equipment? Is it possible to get a good workout without using equipment?
SF: The most important pieces of equipment really depend on your fitness goals, but if you want to get the most bang for your buck, I suggest a TRX. It was designed by Navy SEALs. It can be used almost anywhere and is fairly inexpensive. You can also find used ones on Craigslist. You can get a good workout without using equipment but it really depends on your fitness level. If you are just starting out, I highly encourage you to walk. The main goal is to increase your tolerance to exercise without injury.
CZ: What if you're not a natural athlete or haven't done exercise in a long time? Is there an age where it's too late to start? 
SF: It is never too late to start. Your goals might be different but movement is a basic human skill. Something is always better than nothing. 
CZ: What's the ideal amount of exercise an older adult should incorporate into his or her week?
SF: According to the American Academy of Sports Medicine you want to aim for 150 minutes of cardiovascular exercise per week and 2-3 strength training sessions a week. That being said, it doesn't mean go sprint for 30 minutes a day. Walking can be done consistently that is low impact.  
CZ: Can you describe what might be a typical workout session for an older adult? What types of exercises would you do and how long would the session last? Do you give breaks during the session? Do you start out slow for new clients?
SF: My sessions run for about 55 mins. Breaks are highly encouraged as is water intake. The first session is an initial assessment, where we go over goals, injuries, and your movement patterns. Depending on the client, we will go over basic movement patterns for all populations including knee-dominant movements (like sitting down or stepping up stairs), hinge patterns (like picking something up properly), pushing and pulling. 
CZ: For a client that specifically is worried about balance and falling, what types of exercises would you do during the session? And what types of exercise would you suggest a client do on their own between sessions? 
SF: Balance is always incorporated into workout sessions as it's very important. We start slow and work on exercises to help increase overall strength. If you are new to exercise, this might look like a wall squat with assistance, a wall push-up, a modified row, and a marching exercise. It really depends on the client as to what they can do between sessions. I do offer a workout app to my clients that gives them workouts to do in between sessions.  
CZ: What is the single most important thing someone can do to prevent falls and maintain balance?
SF: Keep staying active. Balance is lost because muscles break down when not in use. As you age that breakdown actually increases. Walking requires the use of one foot at one time. It's the easiest thing to do to maintain balance.  
CZ: What do you recommend to older clients who are worried about their strength doing day-to-day activities, like going up stairs, lifting grocery bags, or playing with grandchildren?
SF: Strength training is vital for such activities and we actually train for these specific instances. My goal for my clients is simply to move better in day-to-day life without injury.  
CZ: What about clients with knee or back pain? Are there ways to ease the pain through exercise? If you have such pain does it make sense to try to exercise?
SF: Knee and back pain are very common injuries and almost always involve a lack of use of the muscles surrounding joints. There are ways to ease pain through exercise. We start very low and work our way up. It is very important to continue to move even with knee and back pain. If a certain exercise makes the pain worse we can certainly work around it, as there are many other exercises we can do that strengthen the entire chain.
CZ:  Any other pieces of advice you think are valuable for older adults to understand as they begin an exercise routine or are trying to decide whether to do work with a trainer?
SF: If you are looking for a trainer, make sure you get as much information about them as possible. Ask them their own history, their experience, and their training style. Ask them If they create programs for their clients. If they cannot answer these questions, this is a good indicator that they will not give you the attention that you need. It's your money and body, so make sure you are getting the most out of it.
CZ: What's the ONE essential piece of advice you have for older adults when it comes to exercise?
SF: Something is always better than nothing. If you can do any more than what you have been doing, that is progress! 
CZ: Thank you, Sarah! If someone wants to follow up with you for more advice or to learn about your personal training service, how should they contact you?
SF: My email is Sara.n.frederick@gmail.com