Mighty Muscles: Muscle Strength Is A Must For Healthy Aging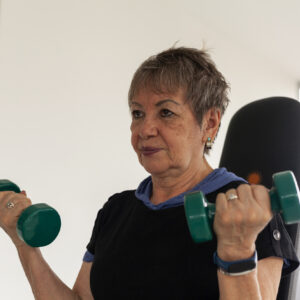 Mighty Muscles: Muscle Strength Is A Must For Healthy Aging
March 22, 2023
We've not hesitated to encourage you to maintain or boost your strength as you go about your healthy aging exercise routine. As you may know, after age 30 you lose up to 8% of your muscle mass every decade, and once you hit 60 that process accelerates. So not only do you need to put in the effort to maintain your muscle mass but you'd be doing yourself a favor to put in the extra effort to build new muscle if you can. Because in order to age in a healthy way, which perhaps more than anything means keeping active and moving, you need the basic muscle structure to power through and propel you. Even if walking is your jam and you pride yourself on the many thousands of steps you take every day, you have to have strength and balance to walk- which means you have to maintain your muscles to fuel your movement. As one expert made clear, "For older people…strength training, which helps with balance, is the top-priority because it makes other forms of activity possible." In fact, a recent post in Well + Good noted that one study found that the fall risk in older women was reduced by 57% after a 6-month strength training program.
While there may be some myths or misinformation about what level of strength-building and weight-lifting is appropriate for older adults (particularly for older women), the reality is the harder you can push and the stronger you become, the better (take a look here at older women rocking their heavy weights). While you need to clear a strength-building routine with your physician, and you need to start out slowly and build, the reality is even very old adults can build muscle and strength. It's advised that you start with 2 days/week of strength training on top of the recommended 150 minimum minutes you should spend on other exercises of moderate to high intensity each week. However, as CNN recently pointed out, over 80% of US adults don't meet the strength guidelines. Moreover, even if we are putting in the strength-building effort, most of us are neglecting many of the over 600 muscles that power the human body. For example, what are you doing to work your Glutes, your Obliques, or your Posterior Delts? All of these major muscle groups are necessary to allow you to conduct your daily activities in a strong and independent way, yet most of us probably have no clue what these are. To gain some perspective, and discover some recommended exercises, grab a resistance band and read here.
And don't forget your grip strength, which we've previously noted can be a proxy for your overall strength and physical well-being. Not only will poor grip strength limit what you can carry and how long you can hold a heavy object, but it's also an indication of a weaker immune system and a marker for a higher risk of chronic illness. In fact, according to a recent post from the Cleveland Clinic, "Grip strength is an easy-to-measure indication of how strong the rest of your body is." So wrap your fingers tightly around your coffee mug and find tips and exercises to improve your grip strength here and here.
One note of caution about muscle mass and strength as you age. It turns out that some of us may be at risk for sarcopenia, a progressive, age-related loss of muscle mass, strength, and motor function. Resulting from a combination of factors, including a problem with the body's natural production and breakdown of muscle cells, along with insufficient exercise, nutrition, possibly testosterone, and other causes, it's a progressive malady that if unaddressed, could leave you impaired and even immobile. What's interesting is that recent research suggests that many internists are not aware of this condition and may therefore not work with you to address and improve your muscle mass. Other research suggests that even light-intensity daily exercise can reduce your risk of sarcopenia but you first need to know if you have it. To find out more and educate yourself about your risk and what to do in response, read and watch here.