Hit These Books: New Guides For Aging Matters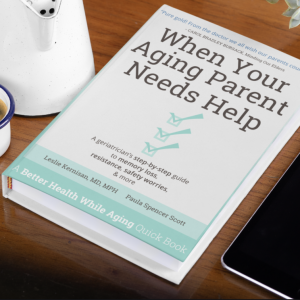 Hit These Books: New Guides For Aging Matters
February 10, 2021
There's no doubt that many of us have had difficulty concentrating over these past many months. Whether because of physical ailments, emotional distress, or just downright exhaustion from the monotony of so many months of limitations, it's been hard to focus our attention on matters both weighty and small. But as a recent article in The Wall Street Journal makes clear, it's worth the effort to try to grab some reading time and dive into a good book. There are several new books available that provide guidance, insights, and practical wisdom for the often weighty task of dealing with aging, either for yourself or a loved one.
First up is the just-published book from expert geriatrician Leslie Kernisan, often quoted in agebuzz and founder of the excellent website Better Health While Aging. With practical wisdom and professional expertise, Dr. Kernisan has doled out advice on many topics that surface as you care for your aging parents. In When Your Aging Parent Needs Help, Dr. Kernisan digs deep into her professional training to provide a range of practical approaches and solutions to such issues as dementia, decision-making, caregiving, legal concerns, and memory loss. Luminaries in the field of caregiving and geriatrics have heralded this as an essential guide for everyone caring for older parents. Given the sound advice we've found on her website, there's no doubt this will be an important resource you'll turn to over and over.
Two new books out of England have also garnered recent attention. Dr. Lucy Pollock, a British geriatrician, just published a book entitled, The Book About Getting Older (for people who don't want to talk about it). Using stories and easily understandable explanations, Dr. Pollock explores what's normal and what's not when it comes to such aging issues as incontinence, dementia, and decision-making. And despite the heavy nature of the topics, critics have praised the humor and tone of this valuable new book. British scientist Andrew Steele also has a book about to be published, Ageless: The New Science of Getting Older Without Getting Old. Rather than focus on the practical, Steele's book instead takes you behind the scenes on the latest aging research- the biological factors that underlie the aging process and emerging new technologies to address and even overcome such factors. Despite the lofty focus, Steele's book is described as an accessible look into the science behind why we age and what can be done to avoid the aging process. For an interesting description and comparison of these two books, put on your reading glasses and click here.
Finally, perhaps like nothing else in recent times, COVID has forced many of us to consider the end of life and how we can address plans and put into place procedures to ensure a peaceful death for ourselves or our loved ones. Two emergency room physicians have released an updated and detailed exploration of the end of life entitled Saving Lives, Saving Dignity: A Unique End-of-Life Perspective from Two Emergency Physicians. Drs. Alan Molk and Robert Shapiro have both personal and professional experiences which have led them to think and care deeply about how to ensure humane and compassionate end-of-life care. With information and modeled conversations about how to approach the end of life, these physicians hope you can learn from their combined 80 years of experience dealing with patients and families as death approaches. You can find out more about their book and their unique perspectives by clicking here.