Grief and Growing: Dealing With Grief And Learning To Move Forward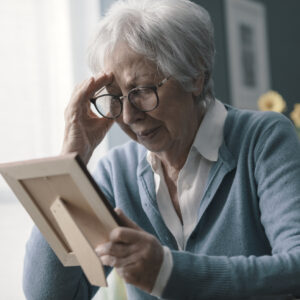 Grief and Growing: Dealing With Grief And Learning To Move Forward
July 19, 2023
None of us escapes loss and death during the course of our lives. Whether it's the death of a loved one (be it an aging parent, spouse, or even a child), the disintegration of a beloved friendship, or the separation from a cherished occupation, we will all experience feelings of loss, bereavement, and grief as we move on into our later years. In fact, given that approximately 3 million Americans die each year, leaving behind an average of 5 people grieving, that means almost 15 million of us experience a profound loss in our lives each year. While not all losses are identical, and no one experiences bereavement and grief in the same way (or exactly on "schedule"), what is usually found is a yearning or longing for the person now gone, along with a sense of disorientation as we try to regain our footing after the destabilization that comes from loss and grieving.
We've previously addressed various aspects of grief and how, as a society, we are often stymied in our attempts to comfort the grieving and recognize the variability of the grieving process among different individuals. Nor do we pay enough attention to the physical health effects of grieving. For example, we have new research that demonstrates the impact of grief on our cardiovascular system. Published in the journal Psychosomatic Medicine, this new research found that a prolonged emotional response to grief can cause a marked rise in blood pressure. Those with the highest levels of grief symptoms are at a higher risk for hypertension and other heart-related problems. For more on this study, click here. And the neurobiology of the brain literally changes when we are grieving.  As we noted in our earlier mention of the book The Grieving Brain, bereavement places an extreme load on the brain so that it simply can't function like a brain not experiencing grief. There is even data to suggest that parents who lose a child before mid-life have an elevated chance of developing dementia in their later years. 
All of this suggests that as individuals we need to do all we can to support each other as we are grieving and to recognize what may be helpful to ease the symptoms and help us move forward after a loss. While there is "no expiration date on grief," and for many of us, as losses accumulate, each may affect the future losses we experience, there are some expert recommendations that you may find useful. First and perhaps foremost, bereavement is a time when self-care becomes essential. Whether it's eating well, getting sufficient sleep, or keeping physically active, experts recommend that you do whatever you can to be kind to yourself and give yourself the time and flexibility to absorb and address the hit you've taken. You also need to forgive yourself for feelings you may think are inappropriate or disrespectful at the moment, such as relief that your loved one has passed. Not all deaths are tragedies and whatever your feelings, they are rooted in your unique experiences and should not be viewed as shameful. Death and grief are incredibly complex and it's only natural that a range of emotions surface as a result. 
It's also recommended that you seek out social contact and support. Many of us may feel clumsy at consoling the bereaved, and may therefore mangle our words or even be reluctant to express solace and support. Writer Colin Campbell has elegantly addressed these concerns in his recent book Finding the Words: Working Through Profound Loss with Hope and Purpose. After the tragedy of losing his 2 teenage children in a car accident, Campbell and his wife's pain was exacerbated by those who said to them, "There are no words." In fact, words, conversation, and dialogue about hurt and pain need to be aired, Campbell argues, as all are essential to helping someone work through their grief and move forward. Campbell urges those who want to support the grieving to be open to difficult conversations and to be present as an active listener as the bereaved want to share their emotions and thoughts with you. For more on Campbell's thinking and his new book, you can listen to him in dialogue with grief expert Lisa Keefauver on her podcast "Grief Is A (Sneaky) Bitch. For other books that may help you through your process of grief, look here and here.
For some final words of wisdom on becoming more comfortable with your grief, Arthur Brooks, writing in The Atlantic, wants you to recognize there are ways to make your grief more bearable and endurable. His recommendations include adopting rituals- be they religious or just small meaningful moments- that mark the moment and give you a way to control your situation. He also urges you to allow yourself to be happy again. Don't feel guilt if you experience something pleasurable or joyous, despite the grief that remains. And be open to the opportunity for a new identity. Loss can often make way for life changes and the opportunity to try something new or become someone new. It doesn't erase the profound loss you've suffered but can open the possibility for you to make meaning of the loss and find your way forward.