Game On: New Research Connects Cognitive Activity With Delayed Dementia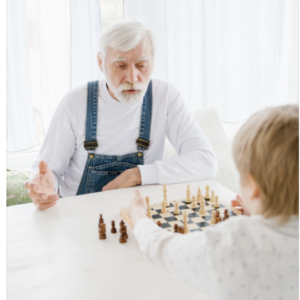 Game On: New Research Connects Cognitive Activity With Delayed Dementia
July 28, 2021
No matter your age or abilities, most of us find playing a game, either alone or in a group, to be engaging and enjoyable. In fact, during the pandemic, there's evidence of a substantial uptick in video game popularity, even among older adults, as a way to connect with loved ones or distract from real-world worries. And while the data's been mixed as to the brain benefits of engaging in games– either video or analog- new research out of Rush University Medical Center, and published in the journal Neurology, suggest that it's time to restart your weekly card game or pick up a new puzzle, as the study reports that engaging in a cognitively active lifestyle can stave off symptoms of dementia for many years.
Specifically, researchers examined the connection between engaging in activities such as reading, writing, or game playing and the subsequent onset of Alzheimer's. What they found was that "a cognitively active lifestyle can stave off the cognitive symptoms of Alzheimer's disease and related disorders by several years and thereby greatly reduce how much of one's lifespan is spent in a cognitively disabled state." While it's not entirely clear why this is, what it does suggest is that engaging in cognitive activities like games may provide your brain with more resilience and might be a modifiable risk factor when it comes to protecting against dementia. Further note: the American Academy of Neurology makes clear that this is the kind of easily accessible and inexpensive option that, even in your later years, could really be helpful in delaying the onset of cognitive decline due to dementia.
So when it comes to games, what should you play? Regarding the good old fashioned board games, there are lots of recommendations, including the classics like Scrabble and Chess, or a new game, called Boom Again, that has been described as enjoyable for people in their '50s, '60s, and '70s, to evoke 1000s of memories with over 2,000 pop culture trivia questions. Find out more by reading here. Or you may want to try one of the "best family games on Amazon" that New York Magazine recently put together, especially if you're embarking on a family vacation. 

Finally, there also seems to be much to gain for your brain from engaging in digital or video games. In a recent interview on Next Avenue, neuroscientist and entrepreneur Dr. Adam Gazzaley highlighted the connection between attention and memory loss and suggested that video games may strengthen neural networks in your brain and support cognitive control, thereby enhancing your attention, working memory, and cognitive flexibility. AARP also recently chimed in on the value of video games, suggesting that individual games may help strengthen your abilities for specific skills, such as response times to certain scenarios. And while you shouldn't play video games at the expense of other valuable activities like exercise or sleep, they just may be a way for you to build some brain capacity while enjoying yourself alone or with others. To find out more, grab a controller and click here.