Easy Eight: Great Safety And Healthy Aging Gifts For Mother's Day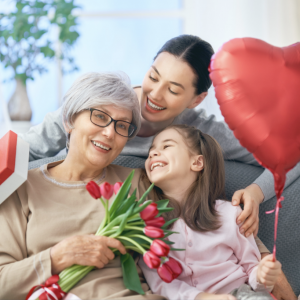 Easy Eight: Great Safety And Healthy Aging Gifts For Mother's Day
April 28, 2021
With Mother's Day around the corner, some of us may be struggling to find an appropriate gift, especially given the year we've all had. While frivolous items may come to mind, in fact, we've all learned the lesson this year of the importance of safe and healthy aging. With that in mind, and with the goal of keeping our moms healthy and thriving for years to come, consider the following recommendations from agebuzz (and find all our recommended books and products on our website here):
Exercise And Falls Prevention: Can't say enough about the value of exercise for staying physically fit and cognitively strong as we age. In that vein, nothing says, "I love you Mom" more than a set of weights she can use as she curls her biceps or squats her legs! Take a look at these vinyl-coated sets of 2 dumbbells that come in a range of vibrant colors depending on the weight you select. And to make sure Mom stays steady on her feet, consider a gift certificate to online Balance Classes at Molly Roffman's StepWISENow– Contact Molly at molly@stepwisenow.com for details.
Walking: With spring finally here and Mom itching to be outside, make sure she walks with a water bottle and bottle sling to stay hydrated while she accumulates those steps.
Sun Protection: Beyond the mandatory sunscreen, make sure Mom has adequate coverage over her head with a UV protection, wide brim, foldable sun hat by Muryoboao.
Tea Set: The health benefits of tea have been widely studied and documented, beyond the de-stressing and comforting aspects that accompany a warm cup. Perfect gift idea? How about a Numi organic tea gift set, with a 40 count teabag assortment?
Make sure Mom stays warm while socially distancing at this summer's evening get-togethers: Mom is going to want to get back to socializing this summer (while staying distanced and being outside). What's perfect for those outdoor backyard gatherings? A reversible, ruana wrap poncho to keep her warm.
A Trelawear medical alert pendant: For the mom who's fashion-conscious but also concerned about her safety, nothing beats a Trelawear alert pendant that's stylish and looks like a beautiful piece of jewelry. Make sure to use the agebuzz discount when you make your purchase (agebuzz readers get $55 off their first purchase by using the code AgeBuzz55).
Make-Up: For a pick-me-up after months of staying inside, consider some pro-age skincare and cosmetics that are specially designed for older women. For example, how about the BOOM! by Cindy Joseph Cosmetics Boomstick Trio – 3 Pack Boom Makeup Sticks for Older Women & Mature Skin – Blush Stick, Highlighter Stick & Moisturizer.
Books: We recommend a wide range of books on agebuzz but especially for Mother's Day, for those moms who are also grandmas, there's nothing better than the book Nanaville by celebrated author Anna Quindlen, in which Quindlen shares her experiential wisdom acquired after becoming a grandmother.
To all our agebuzz readers and their moms, we wish you all a very Happy Mother's Day!