Down In The Mouth: Poor Dental Hygiene Leads To Serious Health Problems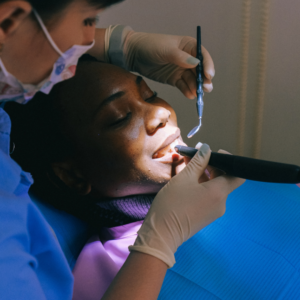 Down In The Mouth: Poor Dental Hygiene Leads To Serious Health Problems
October 19, 2022
While our systems of medical and dental care seem to operate in 2 very different spheres, the reality is the connection between your physical, mental, and dental health is deep and important to recognize. In fact, as one expert has made clear, "Your mouth truly is the gateway to your body." According to the CDC, 70% of adults over 65 have gum disease, and the fact is that gum disease is implicated in many of the major health problems suffered by older adults, including an elevated risk of heart disease and high blood pressure, mental health concerns and even dementia and Alzheimer's. For prior agebuzz posts on the importance of proper dental care for healthy aging, click here.
In fact, new research from Tuft's University, published in Frontiers in Aging Neuroscience, makes the connection between periodontal disease and dementia even more compelling. According to this study, Fusobacterium nucleatum, a common bacteria found in the mouths of those with gum disease, appears to generate systemic inflammation and can infiltrate nervous system tissues, thus exacerbating signs and symptoms of Alzheimer's. In this study in mice, researchers found evidence that this bacteria increased activation of the brain's immune system and also found the presence of Alzheimer-related brain changes in mice whose brains were infected with this oral microbe. While this is not definitive proof and more studies need to be done, it does add to the growing evidence of a connection between harmful mouth bacteria and harmful brain changes. To learn more, grab your toothbrush and read here and here. Another recent study out of Finland involving a large meta-study of over one million participants followed for over a decade found similar results, reporting that people with poor dental hygiene were 21% more likely to develop Alzheimer's later in life and 23% more likely to be afflicted with cognitive decline. You can read more about this international study here.
Moving on from brain health to other aspects of physical health, researchers have also implicated poor dental health in a range of physical afflictions. For example, a recent article published in Kaiser Health News (and reprinted on the MedShadow Foundation website) makes a strong connection between hospital-acquired pneumonia in patients, not on ventilators, and the lack of proper attention to dental care (even basic teeth brushing) among hospitalized patients. Given that this pneumonia can kill up to 30% of those infected, it would appear all the more important that basic teeth brushing would be an important component of hospital care, as a way to lessen the risk of pneumonia, something that threatens all hospital patients (especially older adults).
Additionally, there is mounting evidence of an association between periodontal disease and heart attacks. Published in the Journal of the American Dental Association, a recent study out of the University of Michigan reports that better periodontal care was associated with shorter hospital stays for those suffering a heart attack, as well as associated with more follow-up visits after their heart attack. While not conclusively proving cause and effect, this study nonetheless underscores the important association between good oral health and overall physical health. For more on this study, grab your floss and click here.
So with this mounting evidence of the strong relationship between dental and physical health, shouldn't we all be rushing to our dentists? Unfortunately, for a variety of reasons (cost being the most important culprit) many of us are not receiving proper dental care. According to a recent survey reported in USA Today, close to 30% of respondents stated they have yet to go back to the dentist since before the pandemic due to the cost of dental care, which we know is not typically covered by Medicare or many private insurers. Close to 25% of our population have no dental insurance coverage, which means over 70 million Americans have serious reservations about seeking out basic care that may be vital to their health and well-being. While in very narrow cases Medicare may cover a dental procedure medically necessary for the treatment of another medical condition, this coverage has been interpreted very narrowly and leaves millions without basic dental coverage for routine care. The Biden administration is trying to broaden this Medicare dental coverage to expand the concept of medical necessity, but even this broader coverage would still be insufficient to address the majority of needed care. So for the moment, many may just be to have to act as pro-actively as possible- take care of your teeth with 2x daily basic brushing, along with daily flossing, and hopefully, your teeth will take care of you. Or review some of the alternative options to seeing a private dentist by clicking here.