Soft Touch: Have You Tried Geriatric Massage?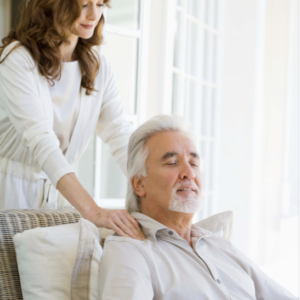 Soft Touch: Have You Tried Geriatric Massage?
August 4, 2021
While you may be basking in the glow of newly resumed activities, or at least being active and outside again, chances are your body may be grumpy about all the extra movement you're undertaking. Long-dormant muscles may be sore or lower backs may once again be aching from the stress of a more active lifestyle. Pain, in fact, is an everyday occurrence for millions of us. In a recently published study in the journal Demography, researchers documented what many of us already know: chronic pain has significantly increased among the US adult population, with joint pain and lower back pain the most prevalent forms of distress. Those in lower socioeconomic groups also suffer more than other groups. And it's not just a matter of physical discomfort. "Pain is a leading cause of disability, and there is evidence that pain has an impact on life expectancy." So trying to relieve pain is not only a matter of comfort: it could also help contribute to a longer life span.
The challenge, of course, is trying to find effective measures of pain relief without adding to the oversubscription of dangerous prescription medications that so many older adults ingest. Suggestions for alternatives to pain meds range from an increase in physical activity to the use of physical therapy, meditation, yoga, or acupuncture. And another possibility is massage therapy. Along with other nonpharmacological strategies, studies have shown that massage can outperform pain medications for the improvement of pain. So the question is, can your aging body benefit from the sometimes vigorous touch of a massage therapist? Similar to typical massage therapy, geriatric massage uses applied pressure to ease pain, improve circulation and help recovery after physical exertion. However, a massage therapist trained to specifically work on older adults will also have the insights and expertise to understand how pain thresholds may be different in older adults, or skin thinning may require a more gentle touch, or even how bone-weakening may necessitate a more careful approach to avoid injury. Those cautions, however, should not keep you from considering massage therapy.
The benefits of massage therapy for older adults, as a way to improve balance, increase blood flow and circulation and even help with posture, along with soothing stress, aches, and pains, have all been put forth in both popular and health literature. However, akin to other alternative modalities, Medicare will not pay for massage therapy, though it may be covered under some Medicare Advantage programs. In fact, the American Massage Therapy Association reports that massage therapy is underutilized by older adults, and that "out of pocket costs and accessibility may be important barriers for seniors in using massage" to treat such conditions as lower back pain. And it is true- with costs running between $50-90 for a one-hour session, that may be a difficult burden to handle for those on a fixed budget.

Nonetheless, if you have the means and the motivation to try it, massage may provide you wonderful benefits with little risk. An appropriately trained therapist can alter usual massage protocols to ensure you have a good experience. For example, if necessary, your clothes can stay on and your body can be in a chair or bed, rather than a massage table, and the sessions can be shortened to ensure your risk of injury is minimized. So, how do you find a good geriatric massage therapist?  The American Massage Therapy Association has a locator on their website to help you find someone who is trained and licensed. Almost every state licenses these practitioners, and you can find out more about that here. You may also find this recent post from MassageTherapy.com useful for identifying important questions to ask and factors to consider as you search for a therapist. There are also geriatric massage certification programs you may want to ask prospective therapists about. With the right therapist, there's little downside, so what have you got to lose? Only some of your aches and pains!