School Days: Options For Adult Learning Remotely Or In Person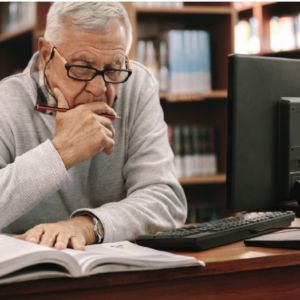 School Days: Options For Adult Learning Remotely Or In Person
September 22, 2021
No matter your age, for most of us September signals the return to school. And while school routines and in-person education have been severely hampered due to COVID, everyone seems to understand the importance of learning and the need to do everything possible to keep students in the classroom. And that's not just for youngsters. For older adults as well, keeping your mind engaged and staying open to learning new skills and ideas is essential to healthy cognitive functioning as we get older. As Albert Einstein once said, "Commit yourself to lifelong learning. The most valuable asset you'll ever have is your mind and what you put into it."
On that note, it's useful to see what educational opportunities are available these days for older adults. First, let's start at the top: Are you interested in obtaining that college degree that always seemed to slip through your fingers? Or do you finally want to earn the master's degree you never quite attained? If that's your aspiration, you're not alone. There are so many older adults who never had the time or resources to take up higher education until after they retired, and many campuses are now welcoming their presence and even creating support groups for older students. Fortunately, Kiplinger recently posted a list of free (or cheap) college offerings for retirees in all 50 states. And The Girlfriend just published a list of colleges around the country that specialize in helping adult learners who may need some flexibility in timing, scheduling, and expenses.
If you're less concerned about a degree and just more interested in expanding your knowledge base, there are lots of opportunities online that are especially focused on the needs and interests of adult learners, especially around technology. For example, Senior Planet has a group of courses focused on social engagement, financial security, health and wellness, civic engagement and advocacy, and creativity, all with the goal of utilizing technology in your efforts. Take a look at their courses here. GetSetUp is an online platform created prior to the pandemic that hosts older adults teaching other older adults in small, online, interactive sessions. All classes are taught by instructors over 50, retired experts in the field in which they are teaching. Basic courses are free and unlimited access will run you $20/month. To see some of the classes, take a look at their YouTube Channel. And in a recent interview, GetSetUp co-founder Laurence Kosick discussed the more than 500 classes currently available, as well as the health and brain benefits of participating in lifelong learning. Further, he stated that the classes run one hour in length, are recorded, and you can have access to return to the class video to catch anything you may have missed. For more about GetSetUp, grab your notebook and click here.
Finally, as referenced in a previous agebuzz post, there is the Modern Elder Academy founded by Chip Conley. Billed as a school for "midlife wisdom," this in-person, as well as online, educational organization is designed to help you navigate transitions encountered in mid-later life, recharge your energy and direction, and acquire new skills, to focus on your next stage of life. For more insights into its philosophy and offerings, read here.