Nailed It: Have You Returned To The Salon For A Mani-Pedi?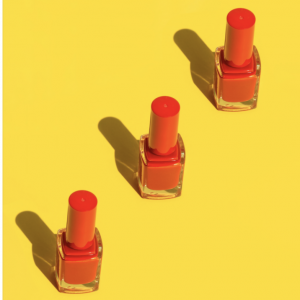 Nailed It: Have You Returned To The Salon For A Mani-Pedi?
October 28, 2020
While it may seem trivial, or even self-indulgent, many of us are longing for the day when we can return to the nail salon, if we haven't already. In fact, sales statistics reveal that nail polish sales have risen during the pandemic, despite the shutdown of many nail salons, reflecting what used to be known as "the lipstick effect" (when times are tough many spend a little more on a relatively inexpensive indulgence that will make them feel good). Since masks are covering our mouths, lipstick purchases make no sense- so perhaps our hands (or even feet) are the new way to express ourselves and give us a lift, and what better way to do so than with pretty and polished nails.
For those of us who are continuing our at-home DIY nail adventures, there are now "virtual appointments" that can be booked to guide us through the process and at-home kits to provide all the essential tools and tips to ensure a good result. There's also been an upswing in the press-on nail category, by which long and lacquered artificial nails can be glued onto your fingers to resemble a professional polishing. If you want to go that route, the options are endless. Take a look here for an example of a French-manicure look that can adorn your fingers.
If you are heading back to the salon or are debating if it's worth the risk, there's lots of advice about what to consider and how to make that as safe as possible. First, consider the guidelines that the CDC provides to nail salon workers and determine whether your salon is following the advice. As an expert recently told The New York Times, "It's reducing the risk, not eliminating the risk…Nobody can tell you it's safe to do x, y, and z. We can (only) make x, y, and z as safe as possible." It's really a matter of determining how essential the nail service is to you and how you can narrow your risks by limiting the duration of time you spend at the salon and keeping your distance from the service provider (and other clients) as much as possible. For some suggestions regarding pedicures, for example, you need to be careful about the water basins in which your feet soak and that all surfaces, furniture, and tools are thoroughly disinfected before each use. Over at Sixty And Me, there's advice about what you can do at home (both before and after a pedicure) that will lessen the time you spend at the salon.
But no matter at home or in the salon, a splash of color on your fingers or toes may be just the pick-me-up necessary to get you through the coming days and continuing pandemic. If that's the case, open your color chart and take a look at the best polish shades recommended for women over 50.