Medicare 101: Reviewing Basics To Prepare For The Upcoming Annual Enrollment Period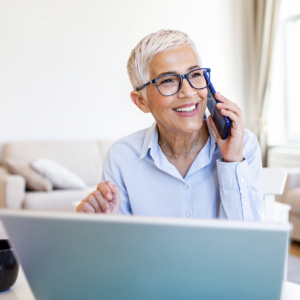 Medicare 101: Reviewing Basics To Prepare For The Upcoming Annual Enrollment Period
September 13, 2023
As you likely know, Medicare is a federal program that provides health insurance to older Americans. Most people think Medicare is incredibly complicated (and it is), but if you break it down into pieces, it's easier to understand and plan for your needs. In our desire to help you better understand the choices you face when enrolling in Medicare, or if you want to make changes to your Medicare coverage, agebuzz has partnered with Chapter, an organization dedicated to helping you determine the best Medicare coverage for your needs. The guidance and services provided by Chapter are completely free. What makes Chapter unique is that they use sophisticated technology to compare every detail of every Medicare plan in the country, and they are not influenced by commissions they may receive, unlike other Medicare brokers. Whether or not they receive a commission, Chapter will help you determine what Medicare coverage makes sense for you, now and going forward. The National Council on Aging has endorsed Chapter as an "ethical, informative, and consumer-first experience for older adults seeking to maximize their Medicare coverage." 
As an initial review of Medicare before the Annual Enrollment Period begins on October 15th, we're highlighting a few of the major aspects of Medicare coverage. First, we address issues for someone signing up for Medicare for the first time. For those already enrolled in Medicare, you can skip to the last section called the "Medicare Annual Enrollment Period."
The Different Parts of Medicare
Let's start with the basics. Picture Medicare as a three-legged stool. Each leg represents a "Part." Part A is hospital care, Part B is out-patient medical care, like doctor's visits, and Part D is drug coverage. There is a Part C (also called Medicare Advantage), which bundles these three parts together. We'll explain later how that works.
Each leg of the stool has a cost. Most Americans don't pay anything for Part A but must pay a premium for Part B that depends on their income. Together, Part A and B are called "Original Medicare." Part D is optional and must be purchased separately from Original Medicare.
Original Medicare does not cover all of your medical costs. It only covers 80%, which means you owe the remaining 20%, with no limit on how much you might pay. You might have heard horror stories about people receiving exorbitant medical bills. The 20% you are still responsible for can amount to a lot when it comes to medical care, which is why most people choose additional coverage beyond Parts A and B to protect themselves from what Original Medicare doesn't cover. You have options for additional Medicare coverage. You can enroll in a Medigap plan or alternatively, you can choose a Medicare Advantage plan in place of your Original Medicare coverage.
Medigap or Medicare Advantage?
Medicare Supplement plans (Medigap) sit on top of your Original Medicare and cover much of the 20% of costs that Original Medicare doesn't cover. Medigap does not include coverage for dental, vision, hearing, or prescriptions — those may be able to be purchased separately. With a Medicare Supplement plan, you can see any doctor who accepts Medicare (which is the vast majority). This option is best for people who want maximum peace of mind. However, it's important to understand that Medigap policies are regulated by both the federal and state governments, so policies may differ depending on where you live. As we said, it can get complicated.
As an alternative to Original Medicare and Medigap plans, there are Medicare Advantage policies. These plans replace your Original Medicare coverage and generally include additional benefits, like dental and vision. These additional benefits may come with additional premium costs. Medicare Advantage plans are administered through private insurance companies, but legally must cover the same services that Original Medicare covers. However, these plans usually set restrictions on which doctors you can see—and costs may add up if you want to see an out-of-network doctor.
When to sign up for Medicare
Most people first become eligible for Medicare when they're approaching the age of 65. This is called the "Initial Enrollment Period" (IEP). It's a 7-month period that starts three months before the month you turn 65 and ends three months after the month you turn 65. 
Let's pretend your 65th birthday is on October 22, 2023. That would mean your IEP began on August 1st and ends on January 31st, 2024.
If you plan to continue working after you turn 65, you may want to stay on employer-sponsored insurance. However, this makes your situation a little bit more complicated, and messing up can mean facing penalties (and headaches) in the future. Chapter can also advise you on your options regarding Medicare if you continue to work past age 65. 
The Medicare Annual Enrollment Period
For most people, Medicare is not a one-and-done situation. Plans change every year, as do your needs. That's why the Medicare Annual Enrollment Period (AEP) exists. From October 15th to December 7th of every year, you can make changes to your Medicare plan that you normally wouldn't be able to do outside of this enrollment window. 
For instance, during Annual Enrollment, you can:
-Sign up for or change a Medicare Advantage plan
-Switch from a Medicare Advantage plan back to Original Medicare, regardless of whether you want to consider a Medicare Supplement (Medigap) plan
-Sign up for or change a Medicare Prescription Drug (Part D) plan
This year's Medicare Annual Enrollment Period is coming up. It makes sense to explore your options, even if you're happy with your current plan. Plans do change their coverage each year, so it's important for you to confirm that your current plan has the coverage you need. For a free Medicare benefits consultation, you can reach out to a licensed Medicare Advisor at Chapter or call 800-378-6608. They can help confirm your current coverage is the best one for you or help you switch to one that's even better. This is truly one of those instances when better information can support better aging. Make sure you understand your needs and the available Medicare coverage as the Annual Enrollment Period approaches.
agebuzz strives to provide you with the best factual, accurate, and evidence-based information on all aspects of aging. Our partnerships and recommendations are made with care and integrity. If you access a service we link to on our site, agebuzz may earn a modest commission. This helps ensure that all agebuzz content remains free of charge and that we have the resources we need to provide you with the best information and insights we can.