Grab And Go: The 5 Essential Items You Need As You Head Out For A Walk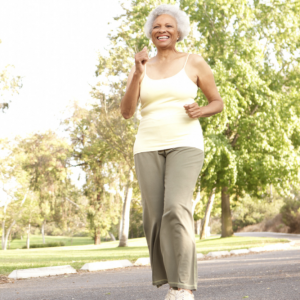 Grab And Go: The 5 Essential Items You Need As You Head Out For A Walk
March 17, 2021
Given the year we've had, you probably don't need to be told to go out for a walk once spring weather is here. Cooped up by COVID, you're more than ready to head out and walk, even without a firm destination. As we've previously touted on agebuzz, the value of a good walk- for your physical health and mental well-being- cannot be overstated. Whether building up leg muscles, bringing down your weight, or shoring up your balance, walking is a surefire way to help you stay fit and feel physically healthy. As for mental health? Experts extol the value of walking to reduce your stress levels and brighten your mood. 
Add to that one more piece of data: According to a new research study published in JAMA Network Open, light-intensity physical activity (of which walking is a prime example) may be essential toward preserving mobility in older women. According to the researchers, almost 1 in 4 women over 65 cannot walk more than 2-3 blocks. That loss of mobility can be devastating to your independence and life-altering for your physical health. But walking (or essentially anything that keeps you moving and on your feet) can reduce that risk of immobility in older women by up to 40%. 
So walking needs to become an essential activity for you every day. But before you head out, make sure you're well equipped to enjoy the outdoors. First and foremost, comfortable walking shoes are an absolute must. Take a look at this Mayo Clinic guide to evaluating the best walking shoes for you. Beyond that, we recommend you take these 5 essential items to ensure a pleasurable (and safe) walking experience:
-Comfy Socks: Nothing stops you in your tracks more than a sock that rubs and blisters your foot. Once you've found your ideal walking shoe, make sure you have the ideal sock to cushion your feet. Our recommendations? For women, nothing beats a Bombas cushiony original ankle sock. And for guys? Go for the Thorlo Jmx Max Cushion Ankle Sock– for maximum comfort and cushion.
– Sunscreen: One of those "truly never leave home without it" items- Even a casual walk can put you at risk for sunburn on your face, neck, arms, or wherever else you're exposed. Before you head out, spread on the Aveeno Positively Mineral Sensitive Skin Daily Sunscreen, SPF 50, For Face Or Body. We recommend the travel size so you can carry it with you wherever you go. 
– Pedometer: Sure, you can download an app and struggle reading your smartphone to check out your steps, or, get a simple 3DFitBud Simple Step Counter that you can clip to your pants, stick in your pocket or pouch, or hang around your neck to easily determine how far you've walked. Small and easy to use, you'll find yourself motivated to walk more as you watch the numbers rise.
– Water Bottle: Adequate hydration is essential, especially if you build up a sweat. Don't let thirst slow you down. But forget about disposables. Instead, carry a lightweight, non-BPA reusable water bottle, such as the Camelback Eddy+ model, that comes with a built-in straw for easy drinking.
– Bottle Sling: While it's essential to have water on hand, it's best to keep your hands free and clear while walking. Instead, invest in an inexpensive water sling from ChicoBag, that's made of recycled fabric with several pockets for small items in addition to your water. Hang it across your chest and you're ready to go.
–And One Additional Recommendation From agebuzz subscriber Lynne Lyons: Make sure you have some sort of identification on you and emergency contact info- just in case. Or, so that you never forget, why not put an ID tag on your walking shoe? As the saying goes, an ounce of protection…Thanks, Lynne!