Coming This Fall: What You Can Watch At Home This Season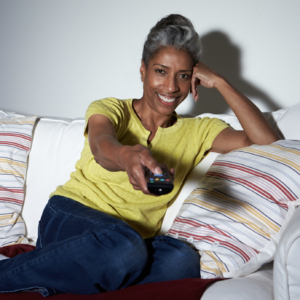 Coming This Fall: What You Can Watch At Home This Season
September 6, 2023
Okay, so maybe you're holding onto the last days of summer and going out and about for your sources of entertainment. Or, perhaps, with the rise of COVID-19 cases again, you're instead contemplating a season of hunkering down and staying close to home. That doesn't mean that you'll be forced to endure re-runs or watch movies you've seen many times already: Because we are about to embark on a new season of television which features a wide range of new and returning shows, and it appears there's something for everyone to enjoy.
With a new list of programming for this fall, AARP has compiled a preview of some highly anticipated shows. Whether you're interested in the updated return of Frasier to television or you're excited about the film adaptation of the best-selling book Lessons in Chemistry which is coming to Apple TV+ in October, there are a range of new and diverse shows premiering despite the current strikes in Holywood. 
One show of interest that has already premiered on Netflix as of August 30 is Live to 100: Secrets of the Blue Zones, the brainchild of author Dan Buettner, who, over the course of 4 episodes, takes you to some of the longest-living areas of the world (Okinawa, Japan, Sardinia Italy, Ikaria, Greece and Loma Linda, CA, among other places) to highlight how the diets, lifestyle, and traditions of these locations allow their populations to live long and healthy lives, free of many of the chronic illnesses and anxieties that typically plague so many in their later years. You can watch an interview with Dan Buettner about this new show here and you can also pick up the latest book by Buettner, entitled, The Blue Zones Secrets for Living Longer: Lessons From the Healthiest Places on Earth, published in coordination with this new television show.
But perhaps the biggest buzz of this Fall television season may be "The Golden Bachelor," a new production of "The Bachelor" television franchise featuring 71-year-old Gerry Turner, a widower with 2 daughters and 2 granddaughters who lost his wife of 43 years in 2017, only 6 weeks after she retired. There are a lot of high hopes that this show will not only capture the hearts and minds of the enormous "Bachelor" audience but will also, hopefully, do a lot to educate the American public about what romance, intimacy, and sex can be like for older adults. The show will premiere on ABC on September 28th, and 22 women, all at least 60 years of age, have been selected to try to interest Gerry in partnering with them. While Gerry presents as a handsome, articulate, and sensitive man of 71 (you can even watch a trailer where he becomes teary discussing the loss of his wife) the women who are competing for his attention are eager to demonstrate that older women have much to offer and are eager for romantic relationships well into their later years. Of course, as television entertainment, there will likely be a level of drama and sexual innuendo to heighten the entertainment value. But there is also much to celebrate in the recognition that older men and women continue to remain interested in relationships and physical intimacy in contrast to the often ageist and prurient caricatures of previous television shows. So get your popcorn ready as the nation prepares to guess who will be the choice of Golden Bachelor Gerry Turner this fall!