Buzz Cup: Consuming Caffeine As You Get Older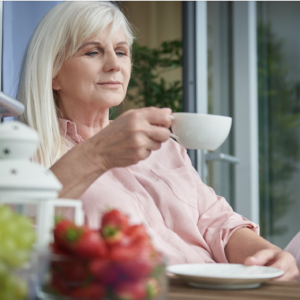 Buzz Cup: Consuming Caffeine As You Get Older
October 18, 2023
Most would agree that there's nothing like a good cup of coffee, especially to get you going in the morning. In fact, a recent survey of 2000 American coffee drinkers found that 81% of those surveyed said it's that first cup of the day that motivates them to get out of bed. Furthermore, the survey found that the average American drinks 460 cups of coffee every year. That's a lot of coffee- and a lot of caffeine. The question becomes, as you get older, is there any reason to be worried about that level of coffee consumption?
We've previously addressed the many health benefits of coffee, for your cardiovascular system, immune system and even to reduce your risk of some cancers. But as you get older, it's possible your body may not be as pleased to be inundated with lots of coffee (and caffeine) in the morning or throughout the day. Caffeine is considered a drug and coffee contains thousands of chemical compounds, some of which may affect your health. As you get older, your body takes longer to clear caffeine from your system, so you may develop more of a sensitivity to the caffeine in coffee. In fact, one study reported that coffee drinkers between the ages of 65-70 required 33% longer to metabolize the caffeine from a cup of coffee compared to younger adults. While this may not necessarily be harmful, it may mean that you experience some jitteriness or anxiety that you previously didn't experience. For more advice on figuring out whether you're drinking too much coffee and ingesting too much caffeine, hold off on that Starbucks and click here.
Some people never experience the heightened buzz and jitters that can come from too much caffeine in their system. A recent article in The Washington Post described the genetic reasons for this. Apparently, there is one particular gene – CYP1A2 – that plays a major role in determining how your body responds to caffeine. Depending upon which variant you have of this gene, you may metabolize caffeine quickly and be able to tolerate higher levels of coffee, or your system may go slower, which means smaller amounts of coffee may take a toll on you. Apparently, the company 23andMe can analyze your genes to help determine which of these gene variants you may have.
But it's not just genetics that may mean you shouldn't drink much, if any, coffee. There are many drugs frequently taken by older adults that may interact with the caffeine in coffee to cause trouble. For example, certain antidiabetic drugs, anticoagulants, or medications for asthma can all interact with coffee in ways that are harmful or that make the medications less effective for the reasons you're taking them. It's definitely something to discuss with your physician. For a list of some of the worrisome medications, click here. There may also be implications for drinking coffee and its impact on your bladder, something of concern to many older adults. Apparently, both the caffeine and acids in your coffee can be irritating to your bladder and exacerbate symptoms you may already have. Caffeine may cause you to produce more urine, and it's also been linked to an increase in the urgency of the need to urinate. It could even be implicated in causing more bladder leaks. So before you down your next cup and head to the loo, look here.
But if you're truly a committed coffee drinker, then you may as well try to make the best cup you can. For some science-backed suggestions on how to improve your coffee-making skills, grab a mug and watch here.