What's Love Got To Do With It? Happiness And Relationships For The Long Term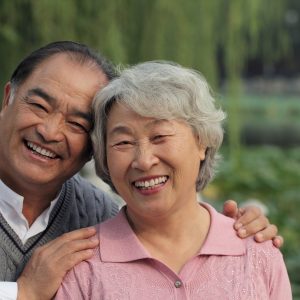 What's Love Got To Do With It? Happiness And Relationships For The Long Term
July 29, 2020
No doubt about it, no matter your circumstance, we're all experiencing heightened stressors and anxieties because of the pandemic. And as we've cited in a previous agebuzz post, the stress associated with money, health, or lifestyle disruptions can take its toll on even long-lasting relationships and marriages. In fact, some early data from China and some rumblings in the legal world suggest that divorce may be on the rise with the arrival of the coronavirus. Clearly the stress from what we're going through may be uncovering some deep and already existing fissures in relationships.
But new research and insights about marriage and long-term relationships seem to suggest ways to buttress faltering bonds. In one new landmark study of almost 12,000 couples, researchers used machine learning to examine both individual personalities and relationship characteristics to scope out what factors are essential for cultivating and sustaining happy union. In a conclusion that is perhaps no surprise to happily married couples, the researchers found that "…The person we choose is not nearly as important as the relationship we build…the shared norms, the in-jokes, the shared experiences- is so much more than the separate individuals who make up the relationship." Moreover, as Psychologist Dr. Jeffrey Bernstein comments in a recent post in Psychology Today, understanding your partner appears more important to a lasting relationship than love. As he stated, "Relationships have broken up and marriages have been torn apart not because the partners didn't love each other but because they didn't understand one another." Bernstein emphasizes that you need to listen to each other with the intent to understand, rather than just the impulse to reply. And the key to all of this? Put yourself in the shoes of your partner and appreciate his or her point of view- i.e., practice empathy.
But what about those who have never had a long term relationship or who have transitioned out of relationships- are you doomed to feeling unhappy as you reach your later years? Well, a new study published in the Journal of Positive Psychology attempted to quantify the subjective well-being of those married, formerly married, and always single, at the end of life. The findings? While being married has in the past been associated with a higher sense of physical and emotional well-being (and this study also found marriage was associated with higher life-satisfaction towards the end of life), those in the study who were formerly married or always single had a similar sense of well-being, leading researchers to suggest that being in a relationship may not always be your ticket to happiness. As one of the lead researchers commented, "When it comes to happiness, whether someone is in a relationship or not is rarely the whole story…people can certainly be in unhappy relationships, and single people derive enjoyment from all sorts of other parts of their lives… if the goal is to find happiness, it seems a little silly that people put so much stock in being partnered." So before you fret about the single life, find out more here.