Weight And See: News About Weight Gain, Weight Loss, and Healthy Aging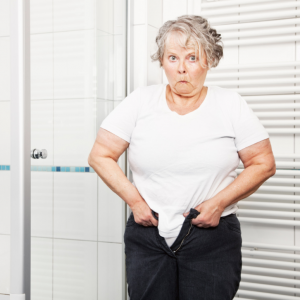 Weight And See: News About Weight Gain, Weight Loss, and Healthy Aging
September 16, 2020
As we head into Fall and out of our summer clothes, some of us may be chagrined at how tight those cold-weather outfits have become. Weight gain has been an adverse consequence of the pandemic, and at a time when some gyms remain closed and outdoor exercise options become more limited, it's all the more important to understand how to manage our weight and limit our excess pounds. Especially as we get older, excess weight can be difficult to get rid of – and more harmful to our health. In fact, just last month, research was published in The Journal of Alzheimer's Disease that linked higher Body Mass Index to decreased cerebral blood flow, a high-risk factor for developing Alzheimer's. So before you consider eating another piece of cake, find out more by clicking here.
It's no surprise, then, that significant weight loss can play an important role in improving your health and well-being as you age. As reported in a recent article in The Washington Post, a report from the European and International Congress on Obesity found that losing significant weight- up to 13% of your body weight- could lead to a considerable reduction in your risk of developing diabetes, high blood pressure, high cholesterol or even osteoarthritis. Experts continue to recommend that real and enduring weight loss of necessity involves long-term behavioral change, something that's not easy, especially if you're looking for a quick fix and are not willing to make meaningful lifestyle changes. For some hard-to-hear but valuable weight loss advice, take a look at the recommendations of personal trainer Amanda Capritto here. And for more information on weight loss, check out these helpful agebuzz resources here.
One of the most interesting, and underlooked, aspects of weight control and weight loss is the role of sleep. A recent study published in JAMA Internal Medicine used sleep tracking devices to further substantiate the association between sleep patterns, weight management, and overall health and well-being. There is incontrovertible evidence that insufficient sleep affects your metabolism, appetite, and food selection, especially as less sleep increases the hormone ghrelin in your body (responsible for feelings of hunger) and decreases the amount of the hormone leptin in your body (responsible for your feeling full). It's a complex and not fully understood relationship but experts seem to agree that getting those recommended 7-9 hours of sleep/night should put you on a path toward better weight management. And one other path? Evidence continues to mount that intermittent fasting can lead to weight loss but only if your strategy is one you can maintain for the long term. So forget about that after-dinner snack and instead, read here.