Less Stress: New Research Suggests Older Adults Experience Less Stress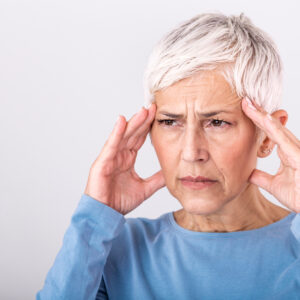 Less Stress: New Research Suggests Older Adults Experience Less Stress
January 18, 2023
While for some, the vision of life as an older adult is one of retirement, relaxation, and soaking up a carefree life, most of us know the reality is not quite so rosy, even if you've managed to save enough money to afford a comfortable lifestyle. But many of us buy into that myth before we confront the reality of our later years. As one writer stated when submitting a question to aging expert and journalist Helen Dennis, "I am in my 70s and thought that there would be a little less stress at my age. I find myself worrying about the coronavirus and my health as well as climate change and our political environment. My concern is the impact of such stress on my well-being." Right. Growing older doesn't eliminate worries or concerns. The question is, how do older adults handle the stress that comes from these sorts of worries?
Well, a recent study published in the journal Developmental Psychology seems to suggest that older adults not only face less stress than their younger counterparts but they can handle it better than younger adults. According to this study, which involved over 2800 participants, ranging in age from 25-74, and followed over the course of 20 years, older adults experience fewer daily stressors in their lives than younger adults and when they do face stress, they are less emotionally reactive and more resilient. In particular, during the course of this study, which initially assessed daily stressors over the course of 8 straight days and then repeated the assessment in 9-year intervals across 20 years, the youngest participants reported daily stressors over 50% of their days while 70-year-olds reported much less stress (over only 30% of their days). One interesting note, however: At around age 55, the stress-handling advantage that comes from growing older begins to taper off and plateau, so that by the time you reach your 80s or 90s that decrease in the incidence of stress and the resilience you acquire in handling it are by and large gone, as you deal with the challenges that arise very late in life.
In a recent interview with Scientific American, lead researcher Dr. David M. Almeida of Penn State University hypothesized why older adults can handle stress better: First, you tend not to be juggling the multiple roles you held earlier in your life, which can be a source of stress; Second, as you've grown older and realized your time is limited, you're likely to focus on making the most of your time rather than obsessing over things that are stressful; and Third, given the life behind you, you've likely acquired experiential wisdom in learning how to deal with stress. 
This ability to handle stress and the perception of less stress do not mean older adults have no stress. As we've previously discussed, stress can take its toll on your mental  and physical health (leading to chronic inflammation, which is implicated in such diseases as diabetes, depression, heart disease, and even Alzheimer's.) A recent article in The Guardian outlined an array of other health issues that can be aggravated or exacerbated due to stress, including migraine headaches, hair loss, Irritable Bowel Syndrome, teeth grinding, and inflammatory skin diseases. While a certain amount of "manageable" stress may in fact be useful for healthy aging according to another recent article in The Guardian (recognizing that the "fight or flight" stress response was essential for human evolution and survival), there's a fine line between useful and harmful amounts of stress.
So as an older adult, it's still important to know how to control and lessen the amount of stress in your life. For some helpful tools, consider the wisdom provided in the recently updated Helpguide on Stress Management, or the advice provided in a recent Very Well Mind post, Health Benefits of Mindfulness-Based Stress Reduction. As we've previously written about mindfulness-based stress reduction, it offers techniques from meditation, yoga, and mindfulness to allow you to be less emotionally responsive to stressful matters and to acquire a better sense of calmness. And for all concerned, calm is the goal.