Hear The Call: Over The Counter (Less Expensive) Hearing Aids Are Finally Coming!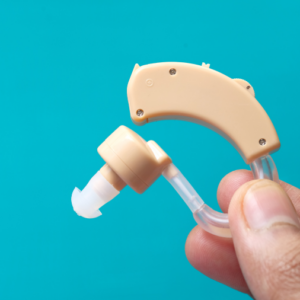 Hear The Call: Over The Counter (Less Expensive) Hearing Aids Are Finally Coming!
August 24, 2022
It's been a long time in the works, but the reality of over-the-counter, non-prescription hearing aids is finally about to materialize. Having granted final approval to these new devices, the FDA has now opened the door to an entirely new market of hearing aids that will be accessible, available, and (hopefully) much more affordable for adults with self-assessed mild-to-moderate hearing loss. Manufacturers and stores can begin to offer these new hearing aids 60 days from final approval, which means that as of early October, you'll likely see a flood of marketing and promotional materials to convince you to check them out. Some of the biggest retailers- including CVS and Best Buy- plan to make these new hearing aid options available both in stores and online. Given the millions of Americans (nearly ⅔ of older adults) who know they have experienced hearing loss but have failed to obtain hearing aids, this could be a life-changing opportunity. To find out more, turn down the television volume and click here.
Why is this such big news? Up until now, official hearing aids have only been available through a prescription requiring many visits to an audiologist for diagnostic tests, fittings, and follow-ups, and the options for such devices have been largely limited to a few large manufacturers ( according to the Wall Street Journal (paywall), the current 4 largest manufacturers of hearing aids account for 84% of the hearing aid market). Furthermore, the costs of these prescription hearing aids have hovered around an average retail price of at least $2000 per device, leaving consumers to pay thousands of dollars (without Medicare or other insurance coverage) for a device that's often difficult to manage, ineffective and stigmatizing. Without competition, manufacturers have had little incentive to innovate, improve their products or reduce their costs. But that's about to change significantly. As Consumer Reports made clear, "Companies will be motivated to design hearing aids that people actually want to use." Estimates are that you'll likely save a few thousand dollars from what you would have spent on prescription hearing aids and if you're lucky enough to have a Health Savings Account or a Flexible Spending Account you can pay for these OTC devices through those (or deduct the cost from your taxes as a medical expense).  
But before you order yours, there are some factors to consider and questions to ask. For a useful checklist of considerations, take a look at the Hearing Loss Association of America's OTC Tip Sheet. A recent Wall Street Journal (paywall) article spells out a number of considerations and strategies for comparison shopping, including appearance; battery life; Bluetooth capabilities (for use with phone calls and media); customer support; price; trial period and return policy. Remember: buying an OTC hearing aid will not be as simple as grabbing some readers from the drugstore. In fact, part of the FDA approval was that manufacturers must put their return policy on the box, so buyers will be informed as to their return options before they make a purchase. The Wirecutter recently came out with a set of recommendations listing the best OTC hearing aids available depending upon your needs. To find out the selections, click here.
Because the FDA does not want adults with severe hearing loss to utilize what may be less-than-adequate solutions, they have limited the amount of amplification that these OTC options can offer. Moreover, self-assessment of hearing loss can often be unreliable or insufficient, so experts recommend that you may still want an audiologist to conduct a hearing test for you prior to seeking out a non-prescription device (it is possible that your insurance or Medicare will pay for this hearing test if your doctor orders it for you). But clearly, for any adult who has had concerns about hearing loss but for whatever reason has not followed up with an evaluation or experimentation with a hearing aid, now may be the right time to follow through and experience the benefits that can be obtained with better hearing. After all, we know that hearing impairment factors into many health challenges (increasing risk of falling, social isolation, even heightened dementia risk). So try it and you might like it- you have little to lose and much to gain with this new opportunity!