Food As Medicine: The Connection Between What You Eat And How You Age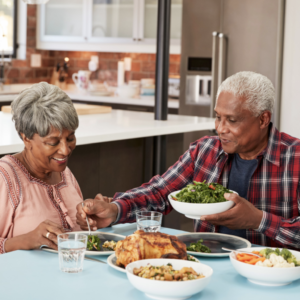 Food As Medicine: The Connection Between What You Eat And How You Age
September 22, 2021
No doubt you've heard the old adage, "An apple a day keeps the doctor away." While that's not literally true, there's solid science behind the concept that the food you eat, and the nutrients that make up that food, can have a profound effect on how your body ages and how you can remain healthy as you grow older. In previous posts on agebuzz, we've underscored the importance of healthy eating, recommending you consider the Mediterranean diet, suggesting you load up your plate with lots of fruits, veggies, whole grains, lean proteins, and fish, and imploring you to stay away from processed foods and saturated fats. In fact, among nutritionists and health care providers, viewing food "as medicine" is an important trend, with discussions occurring about whether health insurance programs such as Medicare and Medicaid should begin "prescribing" fruits and vegetables to patients with chronic conditions, to both improve health and lower costs to the health care system. It's a win-win if people feel better and we can lower health care costs due to less chronic illness.
So what exactly is the "food as medicine" philosophy? There are several principles that are basic components of this concept, which is now a part of the curriculum of many medical schools. Essentially, adhering to the view of healthy eating and thus healthier aging requires recognizing that a primarily whole-foods, plant-based diet is what we're genetically programmed for, that processed foods and added sugars should be jettisoned from your diet, that stress reduction and mindful eating are important for digestive functioning and that foods, rather than supplements, can provide the essential nutrients you need. While few think food can replace medications, there is solid data linking poor food intake to chronic disease and untimely deaths and that the rise in cardiovascular disease, type 2 diabetes, and some cancers is directly linked to poor dietary habits. Most of us are not eating as nature intended, and thus, we are paying the price with chronic disease and poor health outcomes. For a comprehensive resource on all aspects of food as medicine, grab an apple and click here.
And just to provide you with a few "real world" examples of the connection between better eating and better health, Consumer Reports just came out with an article making the connection between a healthy diet and better vision, hearing, and dental health as you age. And new research out of Spain published in the journal Clinical Nutrition demonstrates a direct link between adherence to the Mediterranean diet and improved cognitive function. Participants in this study (both men and women with an average age of 65) not only lost weight on the Mediterranean diet over the course of 3 years but their verbal memory and attention span improved after consuming this diet. For more about this study, plate your salmon and read here.