Down-Fall: None Of Us Is Immune From The Dangers Of A Fall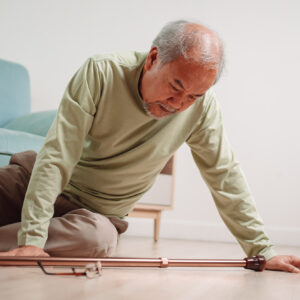 Down-Fall: None Of Us Is Immune From The Dangers Of A Fall
March 15, 2023
You may love him or hate him, but chances are you (or someone you love) now have something in common with 81-year-old Senate Minority Leader Mitch McConnell: That is, a serious fall leading to injury and hospitalization. As you may know, Senator McConnell recently tripped at a private dinner in Washington, D.C., leading to the diagnosis of a concussion, several days of hospitalization, and subsequent admission to a rehab facility, after it was discovered he also fractured a rib when he fell. What's more, Senator McConnell, like many older adults, was at higher risk of a fall, given his history of a previous fall in 2019, which also resulted in hospitalization for a fractured shoulder, followed by surgery. It doesn't matter that he holds an important job or is a public figure. Like most older adults, he is at risk of falling and suffering serious injury as a result.
As we've previously noted, serious injury is a common result of seniors falling and once you've had a fall, you're at higher risk of another.  Senator McConnell suffered a concussion as a result of his fall, which is the most common form of traumatic brain injury and is most often caused by falls. While most older adults can fully recover from a concussion, older adults are at higher risk of complications and the rate of concussions among older adults is rising along with the frequency of falls. Signs that you may have a concussion? Everything from headache and nausea to vomiting and loss of memory. Whether you have a concussion diagnosed following a fall will depend on the force of the blow from the fall and whether your behavior is "functionally different" than before the fall. There's no cure for a concussion and the long-term impact depends very much on the individual condition of the victim. Most people recover within 3-4 weeks, though older adults may take longer. It is also possible that head trauma from a fall could lead to a skull fracture, which a recent research study found was more common in men over 65 than in women.
What else besides your age and a history of falls puts you at higher risk? A new research study published in PLOS ONE found that the majority of those who suffer accidental falls (still the leading cause of death in people over 65) tend to have 4 or more characteristics, including being female, in poor health, suffering from obesity, and having impaired cognitive ability. It seems that arthritic pain also factors into your risk of falling, as it leads to changes in your gait, losing strength in a leg, and therefore being unable to prevent a fall. These researchers suggest that beyond balance exercises, and educational training in fall prevention, what you really need to do to prevent falls is keep moving, in order to keep weight under control and lessen arthritic pain. For more on this study, walk this way and click here. Another recent study reports that developing frailty along with cognitive impairment increases your risk of repeated falls by twofold.
So falling as an older adult is no joke. As we've previously noted, a fall could be a life-changing or even life-ending event for an older person. And even if you escape a serious injury, once you've fallen, you've increased your risk for the potential dangers of another serious fall. As a reminder, most falls occur in the home and according to a new study, it's possible to reduce the risk of a home fall by almost 25% with some simple steps, including decluttering your space, adding handrails, improving lighting, and reducing tripping hazards. For more on the benefits of risk reduction, hold on and shine your light here.