Wise Women: Julia Louis-Dreyfus Has A New Podcast (And Other Women-Focused Podcasts Of Interest):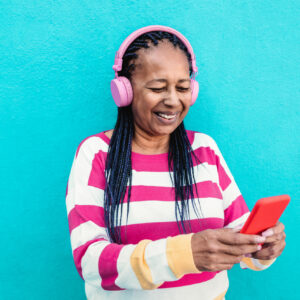 Wise Women: Julia Louis-Dreyfus Has A New Podcast (And Other Women-Focused Podcasts Of Interest):
April 5, 2023
It's not uncommon for women "of a certain age" to feel unseen or unheard. And for good reason: Older women are frequently ignored in popular culture and only rarely portrayed in a positive light in mainstream media. That means we frequently don't know about the important and vital work many older women undertake, and we lose out on the experiential wisdom that so many women have acquired during their long and valuable lives.
Well, the podcast world aims to change that- or at least to start a change. First up is a new podcast from the amazing actress Julia Louis-Dreyfus. Whether you know her as Elaine from Seinfeld, Christine from The New Adventures of Old Christine, or Selena from Veep, you probably know this 62-year-old actress is a multiple Emmy Award winner and one of our funniest comedians around. But she's also a serious political activist and has now plunged into the world of podcasting with a new program entitled Wiser Than Me, which premieres on April 11th. The focus of this podcast, which includes interviews with such stellar older women as Isabel Allende, Ruth Reichl, Fran Leibowitz, Jane Fonda, Amy Tan, Rhea Perlman, and Diane Von Furstenberg, is to engage in serious conversation with these wise women about how they're navigating aging and what wisdom they can share about how to live "a well-lived life." You can listen to the trailer for this new podcast here, and read more about the development and goals of the podcast here. And, by the way, Julia also has a new movie out that premiered at Sundance. Titled "You Hurt My Feelings," this "dramedy" is scheduled for release in theaters on May 26th.
If learning from wise women sounds like your kind of podcast, then we have a few others to recommend as well. First, there are the 5 minute daily podcasts called "Womanica." Each day brings you a brief dive into an incredible woman from previous times. Whether you know about each of these women or not, as the founders made clear, you should. Find out more about the podcast here.
And for some fascinating conversations and insights from women over 70 who continue to pursue their work, listen to the podcast Work While You Have the Light, which brings stories and wisdom from a range of interesting, vibrant, and older women. Originally planned as part of a documentary, this podcast series is the brainchild of an intergenerational team of women from California who saw the value and importance of highlighting working women of interest in their later years. You can find out more about the podcasters and their work by clicking here.