Teeth Talk: How To Keep Your Mouth Healthy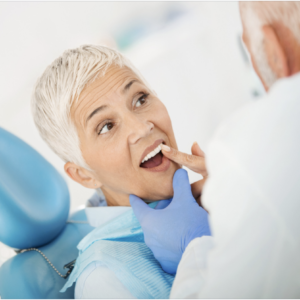 Teeth Talk: How To Keep Your Mouth Healthy
June 15, 2022
It's been said that the only teeth you need to brush are the ones you want to keep. Of course, most of us know from experience that good dental hygiene alone sometimes can't save a tooth- but without it, your mouth has little chance of avoiding major dental work as you get older. So it's always useful to review what you should be doing to keep your mouth healthy- and by extension, to support your broader physical well-being, which is often directly tied to your dental health. For a look at previous agebuzz posts on dental health, open wide and click here.
First up, let's do some review. In a recent overview and review on the McMaster Optimal Aging Portal, experts make clear that poor oral health is linked to numerous health risks beyond your mouth, including cardiovascular problems, respiratory infections, and diabetes complications. In fact, a recent study described in Consumer Health Day detailed a possible link between mouth bacteria in older women and high blood pressure. Whether due to difficulty handling a toothbrush, limited financial means, or poor cognition, older adults may put their broader health at risk when they neglect proper dental hygiene. And what can happen in your mouth when you become neglectful? Everything from gum and periodontal disease to root decay, gum recession, and even tooth loss. It's not a pretty picture and it can leave you with not only a poor smile but even more serious health consequences. 
So what's some of the latest thinking on basic mouth and tooth care? There's no debate about brushing, apparently. The overwhelming professional advice is an electric brush in place of manual brushing, and the recommendation is that you brush your teeth- inside and outside, upper and lower, for 2 minutes per session, two times per day. Your toothpaste should definitely have fluoride (no matter what else you are in search of, such as whitening or sensitivity) and your need for mouthwash as an adjunct to this proper cleaning can be helpful, but it too should have fluoride. And it's probably best to leave the mouthwash for times between brushing. Flossing or tongue scraping? Flossing for sure (with the recommendation of once per day) with the surprising benefits beyond the health of your mouth. Tongue scraping? Probably not necessary no matter what you've heard on social media.
What about some of the more serious problems of dental health as you age, such as receding gums or even the need for dentures? Receding gums is an irreversible and potentially serious concern, with the risk of bone loss, tooth loosening, or even teeth falling out if the situation gets extreme. It can be caused by everything from overly aggressive brushing to teeth grinding or, most likely, periodontal disease where your gums become inflamed from bacterial build-up and the gum tissue pulls away. While proper dental hygiene and regular dental visits can limit the amount of gum recession, once it takes hold it cannot be reversed- but can possibly be addressed through gum graft surgery. To find out more, rinse and click here.
For those of you potentially facing the need for dentures due to significant tooth loss (and over ½ of Americans over age 50 have lost at least ⅓ of their natural teeth), you may want to read the recent post by freelance writer Steve Uhler, writing in Next Avenue. As Uhler made clear about his reluctant decision to seek out dentures, "From cavities to crowns, partials to bridges, uppers to lowers, my mouth eventually became a mosaic of my failed attempts to salvage my own teeth." Despite his concerns about the impact of dentures on his speaking, singing and perhaps most importantly, romantic life, it turns out that with some adjustments, dentures were a great decision for him.

Finally, are you aware of a trend in "anti-aging dentistry?" It seems like your mouth may be the latest frontier in attempts to turn back the clock. Cosmetic dentists can do everything from teeth whitening to composite bonding to veneers- all to not only improve your smile but to address aspects of facial aging, such as wrinkles, lip thinning, and sunken cheeks. So pull out your hand mirror and take a look here.