More Motivation: Do You Need Inspiration To Get You Moving?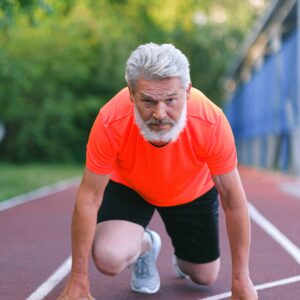 More Motivation: Do You Need Inspiration To Get You Moving?
July 20, 2022
Are you among those who cannot bend down and touch your toes? Do you hide your Fitbit results because your step count is underwhelming? Are you still sitting, streaming, and binging way more than you can justify? Well, if you find you're not as active as you should be, don't be embarrassed- you're clearly not alone. A recent survey conducted by One Poll found that, as a nation, we're still significantly out of shape and more inactive than we should be if we want to age in a healthy way. Half of the 2000 respondents in this poll admitted they can't reach their feet when bending down and the average number of step counts was just 3800 (while needing 10,000 steps a day is a myth, try aiming for the scientifically validated 7500 steps per day). Reasons for this inaction? Respondents cited injuries, joint and arthritis pain, and lack of motivation. Furthermore, US government statistics show that 31% of Americans aged 65-74 engage in no leisure-time physical activity.  If you're looking for someone to commiserate with, take a look at Marketwatch Retirement Columnist Richard Eisenberg's recent column on trying to turn around his lack of motivation to exercise.
So what kind of motivation would help you to move more? Would it help to know that there's now good scientific evidence to show that exercise before, during, and after a cancer diagnosis and treatment can have positive effects, including lowering your initial risk of cancer, better toleration of cancer treatments, and improved survival odds? Or would you be swayed if you understood that people who do little or no physical activity are more likely to be hospitalized or even die from Covid-19 than those who are at least somewhat active? Or is it just inertia? Are you having trouble committing to the time and effort that a little bit of exercise each day requires? According to Dave Robson, author of the new book "The Expectation Effect: How Your Mindset Can Transform Your Life," in order to get motivated to exercise you need to engage your mind to make it pleasurable: lose yourself in music that sets the workout tempo, engage your imagination to help you visualize exercising and bundle your workout with a guilty pleasure, like a "trashy" audiobook.
What if your motivation is lacking because you don't see yourself setting aside daily time for physical activity? If you only have a day or two to work out each week, does it still make sense? Actually yes it does, according to a new study published in JAMA Internal Medicine. According to this research, "weekend warriors" (or those who just compress your physical activity into a couple of days per week) are not putting themselves at a disadvantage, in comparison to those who hit the gym or run the track 5 days per week. As long as you hit the recommended exercise levels of 150-300 minutes/week of moderate-intensity physical activity or 75-150 minutes of vigorous weekly activity, it doesn't seem to matter if the activity is compressed into a shorter period or spread out over several days. The key takeaway is you should be moving, however you can fit it in. To find out more, take out your schedule and click here.
Finally, if upping your fashion game would help get you motivated, consider this new collaboration between the clothing company J Crew and the pickleball paddle maker Recess Pickleball!