Dating Games: Searching For Romance Later In Life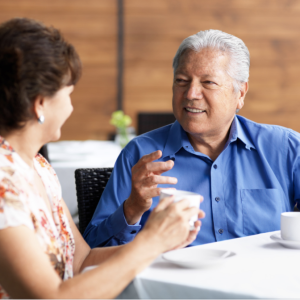 Dating Games: Searching For Romance Later In Life
March 9, 2022
With pandemic restrictions lifting and mask mandates falling, maybe you're thinking about heading back out there to explore the dating scene in your area. If so, you've likely got plenty of company. Current estimates are that of the 54 million adults 65+ in our country, 43% of them are single. And it seems like where you live may be as important for your success in the dating game as your sparkling personality or interesting back story. According to a recent report published in Seniorly, certain US states hold more promise for would-be older daters than others. Examining such factors as the ratio of older women to men (at age 70, that ratio is said to average 3.5 women for every man), the cost of living and dating, the % of singles in the state, and annual average incomes in the area, it looks like the Midwest and West are your best bets, with Idaho, Minnesota, and Wisconsin rated the "best" states for older single daters, while those in the south (yes, we're looking at you Mississippi, Louisiana, and South Carolina) are among the worst.
Regardless of where you live and how promising your prospects are, you can always use advice and support as you head back out there, especially as older adults continue to be at financial and heartbreak risk from the "romantic scams" perpetrated by fraudsters online. Everything from the changing language of dating to the chosen characteristics you're seeking in a partner is up for grabs in today's world. For example, if you're using an online app (and the advice is to stick with one, invest the time and energy in a good profile, and be patient) you need to understand the new lingo that a prospective partner may use, including whether he or she is seeking an "LTR" or "LDR" (long-term relationship or long-distance relationship) or whether this prospect is instead hoping to be an "FWB" (friend with benefits i.e., a sexual relationship without necessarily a romantic relationship). Experts acknowledge that older singles need to focus less on a "soul mate" and more on someone you may "click" with. Moreover, you may have deal breakers in a "mate" but you're advised to be realistic with your expectations. As one expert exclaimed, "Everyone at this age has baggage, but it's the way they handle it and if they've got their life together" that should be important. For more advice as you look for love, check out the website of syndicated columnist Tom P. Blake called Finding Love After 50. Tom even suggests that if you're searching "offline", print up some "business" cards with just your name and email address, in case you come upon any good prospects IRL (in real life).
And mating "games" and dating etiquette may be very different depending on where you live and what you're seeking. In China, for example, a new popular dating show that involves older men and women is gripping the nation. The mating "ritual" between these adults is smashing stereotypes of how older men and women should behave and what they should seek in a mate, and instead, blunt talk and direct questions about everything from money to health to sex and stamina are raised front and center on television, with contestants who range in age from their 50s to their 80s. In the US, we've also got platforms of popular culture that are now showcasing older women and men in a different light as they look for love (and sex). In the United States, everything from the movies of Nancy Meyers to the novels featuring mature love featured in a recent BuzzFeed post are giving us models of what senior dating can look like today. While you may not be sure exactly what might be a good "match" at this point, those of us in our later years likely know what we value and what we're not willing to give up. We may not be able to exactly DTR (define the relationship) but with a little luck, we may find a certain someone that surprises us and stirs our emotions- and in this day and age, that may be just what we need.