Calories Count: Balancing Nutrition and Calories For Healthier Aging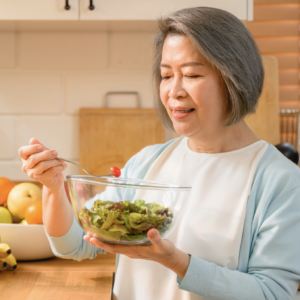 Calories Count: Balancing Nutrition and Calories For Healthier Aging
October 18, 2023
It's undeniable that what you eat, and how much you eat, loom large when it comes to healthy aging. Over the years, we've regularly reported on how your diet affects your health as you get older, and how the number of calories you take in could also play a role. There's no doubt that as we age, our nutritional (and calorie) needs change along with our aging bodies and organ systems. For example, as you get older, your digestive tract becomes more sluggish, and thus your fiber intake becomes more important. As your stomach ages, it produces less stomach acid, so the absorption of certain vitamins decreases and thus the need to increase your dietary intake of some of those vitamins (Vitamin B12, for example) becomes more important. The challenge is trying to understand how your nutritional needs change and what's the best way to address those changing needs. You may be tempted to do an end-run around your diet and just purchase supplements that claim to provide you with all the nutrition you can get from fruits and vegetables (Be careful about those claims, as they may be the result of overzealous marketing rather than real science). Or you may think it doesn't matter at your age, given your unhealthy diet before you got older. But you'd be wrong. Research suggests that even at a later age, diet and calorie adjustments can make a big difference. For some nutritional advice, grab your dinner plate and click here and here. You can even call out to your Alexa screen now to get some good nutritional advice.
So what you eat is clearly important to your health: But how much you eat is also important. Generally speaking, your calorie requirements slowly decrease as you get older, especially as you hit your 60s. As you age, especially if your level of physical activity declines, your need for fuel (i.e., your calorie intake) declines as well, and as you lose muscle, you gain fat, and fat burns fewer calories than muscle. Typically in older adults, appetite levels decline, so for most older adults there isn't too much need to focus on calorie intake. But if you're naturally taking in less, that makes it even more important that the food you eat supports all of your changing nutritional needs. As a New York Times article summed it up, as you get into your later years, "there's less room for (food) treats." For a rough calculation of how many calories you should be eating each day, clear the counter for your kitchen scale and take a look here.
Correspondingly, there continues to be more scientific evidence as to how reduced calorie intake may also foster and support healthier aging. A brand new study published in Aging Cell found that reducing your overall calorie intake may help rejuvenate your muscles and put you on a path toward healthier aging. We already knew from previous studies that calorie restriction appears to support health benefits, and this new study reports that a calorie reduction of a modest 12% appears to positively affect your skeletal muscle system without causing a loss of muscle strength. This study also reports that such calorie restriction delays the progression of age-related diseases in humans. So long as you make sure you pay attention to your nutritional intake, taking in fewer calories could be one more lifestyle change to help increase your health span and possibly even your life span. To find out more about this study, read here.