Story Time: Some Late Summer Book Recommendations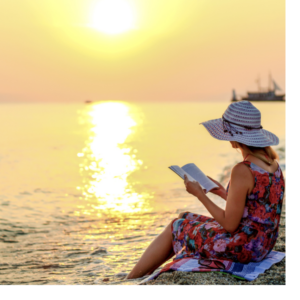 Story Time: Some Late Summer Book Recommendations
August 24, 2022
Whether you're trying to squeeze the last days of leisure out of summer or looking forward to a busy fall, you may have time for one more summer read before Labor Day arrives. In that case, we have a few new titles for you to consider, ranging from light and humorous to the more serious topics that life presents as we get on in age. No matter which you select, you'll be reading the words of wise women who have chosen to share their stories and insights.
First, on the lighter side. Kay Hoflander may not be a familiar name to you, but she writes about topics that may be all too familiar to many of us. A journalist by training (including for several years a regular weekly column "Full Circle" in a local Missouri newspaper) and a retired Republican party chairperson, Hoflander writes with humor and reflection about navigating today's world as a Baby Boomer. Her latest book is entitled Musings of a Baby Boomer: Life Before X, Y, and Z  and it's a collection of many of the columns she published while still working as a journalist. With a voice that's been compared to writer Erma Bombeck, Hoflander uses storytelling and humor to describe how she navigates an increasingly complex world as she gets older. It's a light, humorous read that she hopes will provide insight into the history and challenges that baby boomers have lived through. To find out more, read an interview with her here.
Next, a book both inspiring and tragic, as it tells the story of a life cut short way too soon. How to Live When You Could Be Dead was written by Deborah James, whose story may be unfamiliar given that she lived and worked in England. In 2016, James, then a school teacher, was diagnosed with the bowel cancer that eventually led to her death just recently at age 40. Upon news of her diagnosis, James pivoted to a new career of podcasting and blogging, under the moniker Bowel Babe. She worked tirelessly to raise awareness about bowel cancer, raise funds to support research, and share her story both poignant and upbeat about what living with cancer was like for her and her family. Her book is a meditation on living life positively even in the face of what will ultimately be a terminal illness. Part memoir and part self-help book, Dame James (she was given that title by the Royal Family in recognition of the inspiring work she took on) wanted her book to show others how to live in the present regardless of what you know the future will be. A parting gift to her followers, the book became a best-seller even before it was formally published. You can read more about Deborah James and her life and death in her Guardian obituary here.
Finally, on a topic so many of us can relate to: MOTHERCARE: On Obligation, Love, Death, and Ambivalence is a new book by author Lynne Tillman, whose many books of fiction and criticism have made her a highly regarded author. This time, in a work of non-fiction that The New York Times described as "blunt, brutal, devoid of sentimentality" Tillman details her experience, along with her sisters, in providing years of care for her aging mother who declined due to dementia. With an unvarnished examination of providing intimate care for a mother for whom she felt obligation but not affection, Tillman's book was described by Publisher's Weekly as "cannily original," not an easy feat given how many books are out there on the topic of caregiving. Find out more about this original voice on a nearly universal topic by reading here.