Pill Popping: Technology Assists To Track Your Medications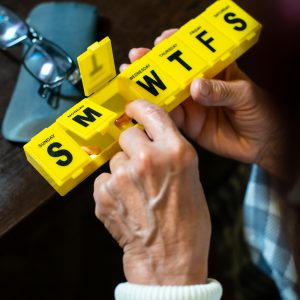 Pill Popping: Technology Assists To Track Your Medications
November 20, 2019
For anyone who's tried, you know that managing multiple medications on a daily basis is no picnic. Just trying to remember to take your medications, let alone managing the dosages, can be a challenge, especially for those suffering from multiple chronic illnesses or with diminished cognitive capacity. And for your own health as well as for the public health benefit, adherence to your prescribed medication regimen is critically important.
So, to help keep you on track, there are numerous supports out there that can be beneficial. Recently, Aging in Place Technology Watch published a blog post outlining a range of phone apps as well as medication dispensers to help keep track of timing and dosages for those with complex medication regimens. Over at The Senior List, there's also a recently published comprehensive list of automated medication/pill dispensers intended for older adults, with a good comparison chart and list of benefits and burdens for each device. Among the questions you need to consider when opting for one of these devices: How much medication does the device hold? Are there alerts for when a medication is skipped? How easy is the dispensing system? And how much do they cost and do you have to buy or can you rent? Certainly, some sort of tracking dispenser will ease the burden on your brain to remember all your meds and whether you took the correct quantities. So get that glass of water ready and read more here. 
Finally, there's always Pill Pack to consider. It's an Amazon-owned online pharmacy that prepackages with the correct dosages all of the meds you need on a daily basis. For insights on Amazon's purchase of Pill Pack and how employees train to understand their customer base, put down your prescription bottle and click here.