Photo Shoot: Visual Images Of Aging and Caregiving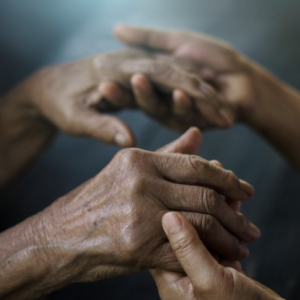 Photo Shoot: Visual Images Of Aging and Caregiving
August 23, 2023
No doubt you've heard the phrase "A picture's worth 1,000 words." When it comes to photographs documenting what it's like to be in the throws of dementia (or a caregiver of a person living with dementia) or to be a long-married couple living your final days, the images captured by a photographer can convey meaning, emotion, and authenticity in ways no words could describe. So it is with 2 recent photography projects, both born out of unplanned caregiving as a result of the pandemic.
For photographer Becky Wilkes, the pandemic meant that her parents, married 67 years and in declining health, were better off being in her home than isolated in a facility. What followed from their move into her home was an extraordinary photographic documentation of their physical decline yet emotional bond as their days came to a close. With intimate details and raw, authentic but gorgeous photos, Wilkes was able to capture the complexity of their lives along with the mix of emotions she experienced as a photographer, documentarian, daughter, and finally mourner. Moreover, she titled each photo with the spoken words expressed by her parents on each occasion. It's a remarkable collection of courage and compassion as Wilkes captures the last days of parents she so clearly loved. To see these photos and read more about this photo project, take a look at this recent New Yorker article or read an earlier interview that Wilkes gave to the website Feature Shoot.
Photographer Steven G. Smith also embarked on a photography project of documentation, this time capturing the real-life ups and downs of a daughter caring for her father living with dementia. Having lived through the dementia of his own father, Smith sought to use his camera as a way to chronicle the impact of dementia caregiving on the lives of those providing care. His images are so powerful and profound that the trusted health website and medical resource STAT chose to publish Smith's photos as a way to educate and enlighten readers on the emotional toll of dementia on families and caregivers. 
In Smith's photos we see the lives of George and Leandra Manos, a father living with dementia and a devoted but at times challenged adult daughter doing all she can to give him a quality of life he would otherwise have lost living in a facility. Their caregiving journey also began during the pandemic, when Leandra made room in her home, and gradually gave up her own job, to devote herself to her father. The photos, along with an essay by Leandra, capture the joys and frustrations she experiences as she attempts to maintain the dignity of her father while recognizing the limits of his comprehension and connection, She does her utmost to give him a joyful life and find meaning in her role, but it clearly comes at a cost to her own well-being. She, too, has the goal of using her story to educate and elevate the conversation about how we can do better for caregivers and their loved ones. To see more of Smith's photos, and read the personal essay by Leandra, click here.