Neat And Tidy: Ideas To Clean Out The Clutter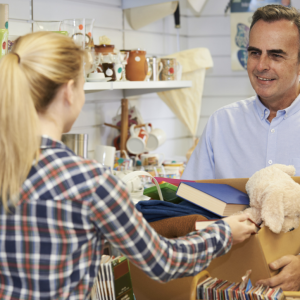 Neat And Tidy: Ideas To Clean Out The Clutter
January 12, 2022
Many of us have had quite a bit of downtime over the past couple of years, allowing us to think about how we live and what we might want to change when/if life returns to some level of normalcy. And while the pandemic has introduced many of us to the joys of online shopping, just as many have probably thought about the "tsunami of stuff" we've acquired over the years and what can be jettisoned to make our lives simpler and perhaps more satisfying. While some may actually suffer from the mental health disorder of hoarding (which actually might require psychological or even legal expertise to address) most of us have just accumulated stuff over the years which we have trouble parting with, for one reason or another.
Past posts in agebuzz have touched upon the various reasons for the clutter we maintain and the challenge we have with discarding long-held items. But it's useful to review what holds us back from clearing the clutter with a clean sweep. For example, in a recent piece in The New York Times, health journalist Jane Brody remarked on the numerous reasons why her empty spaces keep filling up. Whether you want to take advantage of a sale, use retail therapy as a balm in troubled times, or maintain some irrational fear that the item you get rid of will then immediately become necessary, we all use psychological (and often flawed) excuses for holding items long past their prime. Moreover, many experts have maintained that the stress that comes from the mess of clutter or the anxiety from looking for a deeply buried item in your closet is harmful to your mental health. As one expert has wisely remarked, "Life is about connection, not collection."  So, with the philosophy of a clear space makes a clear mind, what follows are some strategies and solutions for ridding yourself of items no longer serving a useful purpose.
First suggestion? Don't sweat the "analysis paralysis" for how to begin your clean-out. Recognizing that getting started is the hardest part, experts suggest you confront a series of hard but necessary questions: For example, Do you really need the item? Could you easily replace it if necessary? Is this a duplicate (or multiple) of something you already have? Will this have any real meaning to the heirs you are saving it for? Are there papers that you can scan and then toss? Once you confront some of these questions to help you sort the wheat from the chaff, it's time to utilize practical strategies for selling, swapping, disposing, or donating. But recognize you'll have some steep competition when it comes to jettisoning your stuff: According to a recent article in The New York Times pandemic decluttering has led to a boom in thrift shop donations, and departments of sanitation across the country report an uptick in the amount of refuse collected.
Consumer Reports has a series of rules to guide your organization: For example, make sure to prep your items correctly, including understanding what papers can be scanned and then shredded and what documents you absolutely need to keep; Go to the support services of such hardware websites as Apple or Microsoft, for example, to understand how to remove all of your personal info before getting rid of phones or computers; Check the platforms on which you might sell stuff (for example, Facebook Marketplace) to see how comparable items are priced to sell; And recognize that there are increasingly many online sites as well as brick and mortar organizations that will gladly help you sell, give away, or donate your items. For example, Fast Company has a list of several apps to help you declutter and jettison your items, including such sites as Bye Bye: Declutter and Adobe Scan app to help you scan first and then shred unnecessary papers. For large items, like household goods and furniture, LifeHacker has a list of places to which you can turn that will retrieve your items without you doing the heavy lifting. There's also a new entity based in Oregon (that accepts items mailed to them) that for a flat fee, will collect your items, price them accordingly, put them on several online sale platforms and send you your money once the item is sold. Finally, if you're not aware, you should become acquainted with the growing "Buy Nothing" movement, which facilitates your donation of desired items to your neighbors or helps you locate a needed item that someone else may want to part with. The goal? Look for someone else's giveaway before you ever need to pull out your wallet. Good for your bottom line and better for the environment.