Make Yourself At Home: More & More, Hospital Care Will Be Delivered At Home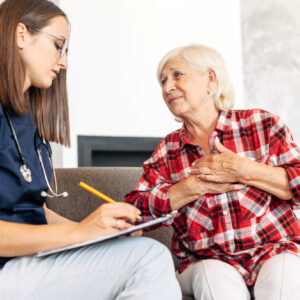 Make Yourself At Home: More & More, Hospital Care Will Be Delivered At Home
May 3, 2023
We've previously posted about the risks confronting older adults when they are hospitalized– whether due to infections, disrupted sleep, delirium, or even falls due to sedentary behavior while hospitalized. Moreover, during the pandemic, doctors, patients, and healthcare systems all struggled to lessen the number of patients heading to hospitals, as Covid raged, systems buckled and staff shortages increased. These stressors on the health care system underscored that perhaps a new (or renewed) approach to patient care is needed- that of bringing acute care into the patient's home. We previously posted on the trend of "hospital care at home" but the pandemic really ramped up the drive for this new approach to acute care, and Medicare even began to grant waivers (which were extended to last until the end of 2024) to encourage more Acute Care at Home programs and to fund programs delivering hospital-type care to patients in their homes. In fact, lawmakers now struggling with how to shore up the finances of Medicare have begun to look at hospital-at-home models and to think about broadening their scope of care, in order to better serve patients while saving money for the system.
But what is the truth? Do these programs deliver better care to patients? And do they save money for health care systems? And what other benefits or burdens lay beneath the covers of this new approach to care? The jury is still out, but given that you or a loved one may be offered this type of care the next time hospitalization is necessary, it's useful to consider the issues.
As noted in a recent New York Times article by New Old Age columnist Paula Span, there is strong evidence to suggest that patients may get better care at home than they would in an acute care hospital. These sorts of programs originally dealt with patients dealing with such common later-in-life issues as pneumonia, urinary tract infections, or heart failure. Given the risk of infection, inactivity, and cognitive problems that often afflict older hospitalized adults, studies have found that those enrolled in hospital-at-home programs often are happier and more comfortable in their own beds, have less need for readmission to a hospital or to a rehab facility and generally rate their care at home highly. Technology now allows for sophisticated home monitoring, and with in-home visits by various health professionals as well as telehealth visits, many patients do quite well and would rather be at home with loved ones than separated and segregated in hospital facilities. And there are some studies that suggest the costs of care at home can be substantially less once the programs are up and running, especially as fewer tests are run and fewer scans are performed. Moreover, given the shortage of hospital beds in many communities and the cost of constructing new hospitals (much less staffing them), many are suggesting that caring for patients at home (as was previously done before the 20th century) just makes good sense. 
However, before you jump on the hospital-at-home bandwagon, there are lots of factors to consider. First, and perhaps foremost, is what will be the burden on/responsibility of other family members if acute care is transferred to the home setting? With everything from receiving supply deliveries to answering the door, to ensuring medications are taken as prescribed, to the personal care needs of the patient, who will take up these responsibilities if nurses are only available at certain visits and home care aides are not on site? In fact, AARP recently created a list of questions that should be asked before you or a loved one agree to a hospital-at-home program, including who will be helping at home, what are the expectations for family members, and what if the patient lives alone? In fact, nurses have perhaps been most vocal (and skeptical) with concerns about these programs, as they worry not only about responsibilities placed on caregivers but on patients themselves, along with emergency care systems in the community.
Yet many patients, providers, and healthcare systems are positive about this new location for acute care and bullish on what the future holds. Some have predicted that future hospitals will exist only for intensive care, emergency care, and operating rooms. And many companies, including some big names like Best Buy, have begun to move into the space to assist with the technical support necessary for this type of care to exist. In fact, there are now companies that handle all technological and logistical support for these programs remotely. It takes tremendous effort to initiate and run some of these programs, so they may never save money unless they are able to really scale up to experience cost savings. 
Demonstration projects around the country have shown that if set up correctly and staffed appropriately, hospital-at-home programs can really please patients and providers while saving money for hospital systems. But as one healthcare analyst has noted, "The model is feasible, the potential is astronomical but how it fits into the American healthcare system is still in the early days." Whether or not these programs can scale up to make a meaningful difference in our delivery of acute care, while keeping the interests of patients and care providers front and center, remains to be seen. But chances are, you or a loved one may be offered this alternative care at some point in the future. Will it be of interest to you and meet your needs in an acceptable and healing way? Time will hopefully tell.