Lessons On Food (And Love): Cooking With Grandmas Around The World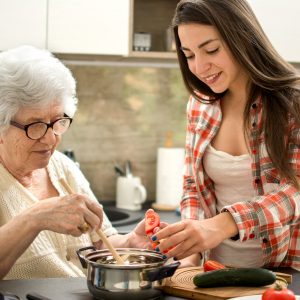 Lessons On Food (And Love): Cooking With Grandmas Around The World
February 19, 2020
No doubt about it, there's something special about grandmothers and cooking. Some of our earliest memories may be of watching our grandma work magic in the kitchen or eating one of her lovingly prepared meals. Such occasions bolstered our love of food and our love of Grandma as well. These connections must be universal, no matter our ethnicity nor location because an entirely new type of travel has emerged, connecting tourists seeking authentic experiences with grandmas making meals in their home kitchens.
First stop: Airbnb offers you an afternoon with Nonna Nerina, who, along with her sisters, will offer you a loving lesson in making homemade pasta. The reviews of this culinary adventure are as extraordinary as the pasta is likely to be. Need more than an afternoon? Writer, tour guide and all things Italy expert Elizabeth Minchilli has now begun a week-long tour of the Parma region of Italy to spend time with Pasta Grannies, those older Italian women who still make pasta by hand. You'll also be sampling some of the food this region of Italy is renowned for (can you say Parmigiano Reggiano, Aceto Balsamico Tradizionale di Modena, Prosciutto di Parma and Culatello?) If you'd like to know more about this tour, put on your apron and click here.
But it's not just Italy that has Grandmas who cook. All over the world, you can find older women in the kitchen lovingly stirring and serving with grandchildren by their side. For some examples, and samples (actually recipes), sit down with the grandkids and watch this video from Great Big Story. Finally, writer Anastasia Miari and her co-writer Iska Lupton recently traveled the world, interviewing their own grandmothers (in Greece and Germany) as well as 40 other grandmas in such countries as Russia, Poland, Cuba, and the US, in search of amazing recipes. While putting together these recipes into a new cookbook called Grand Dishes, they also found themselves collecting wisdom about life and love. You'll learn much more than how to sautee an onion or create a red sauce. Find out more about their project and its results by clicking here.