It's Not Over Yet: Current Concerns About Covid And Other Winter Respiratory Viruses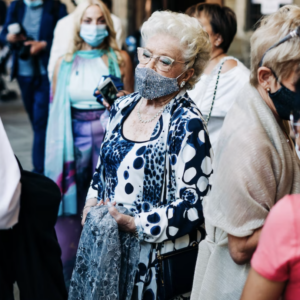 It's Not Over Yet: Current Concerns About Covid And Other Winter Respiratory Viruses
December 14, 2022
It's a strange time in the United States. Holiday parties and preparations are underway, family gatherings are on the calendar if not already happening and everywhere you see people gathering to celebrate and connect again. At the same time, in the last 2 weeks, reported Covid cases have increased by 53% and hospitalizations have jumped by 31% (this is likely an undercount of Covid cases given how many of us now just self-test at home). Moreover, hospitals in the United States are currently at the fullest they have ever been since the pandemic began, with more than 80% of hospital beds occupied, due to increases in Covid, flu, and RSV cases. In fact, flu cases are also up dramatically. Flu admissions to hospitals were twice as much during Thanksgiving week as they were the week before. So what's going on? Not only do we appear to be acting as though Covid is behind us (largely abandoning measures to help keep us protected) but we're doing so at a time when other respiratory diseases are at very high levels, not seen in years. And who's most at risk during all of this? Older adults. In fact, the data show that 90% of people now dying from Covid are 65 and older. We also know that 6 out of 10 of those now dying of Covid have been vaccinated though there is also data that shows that those who have received the latest bivalent booster have a 15x lower risk of death than an unvaccinated person.
This "pandemic is over" mindset, combined with lax precautions, insufficient numbers being vaccinated and boosted, and the presence of other serious viruses afflicting us, has put older adults at significant risk this holiday season. With the White House now preparing for a new Congress likely to insist on ending the Covid Public Health Emergency declaration (which opened up federal resources and money to help fight Covid), there will likely be fewer federal resources to encourage and pay for testing, vaccinations, Covid treatments, and data collection. And that's a problem, as we have a long way to go before we can put this pandemic behind us and better protect our older population. As one Covid expert declared, "When it comes to protecting seniors, we're doing a terrible job of that in this country."  Moreover, the problem appears to be even more significant for the senior population living in long-term care facilities. A new analysis by the Kaiser Family Foundation found that only 45% of nursing home residents were up-to-date with their Covid vaccines and only 22% of staff were up-to-date. Given that ⅕ of all US Covid deaths have occurred among staff and residents of long-term care facilities, this bodes poorly for the months to come when staff and visitors going in and out of facilities are likely to carry Covid, along with flu or RSV, with them.
With fingers crossed, experts are hoping that this year's Covid surge is not as devastating as those in previous years (unless a new variant emerges). However, there appear to be troubling increases in Covid already brewing in parts of the South and West, and in New York City as well. Take a look at the latest CDC tracking of Covid outbreaks here and see if your area is at the highest level of risk (colored orange). If so, experts have begun to urge the wearing of masks again in indoor public places, not only for Covid protection but for safety from flu and RSV infection. And yes, N95 masks (or KN95s or KF94s) continue to offer the best protection for you. Beyond wearing a mask and making sure you are up-to-date with all of your Covid vaccines and boosters, especially the most recent bivalent booster, there's probably still more you can do regarding air quality, keeping an eye on symptoms, and other protective measures. For some good guidance and a helping hand, grab the hand sanitizer and check out the latest guidance on Covid protection from Better Health While Aging's Dr. Leslie Kernisan.