Fleeing Facebook? There's A New Social Media Platform For Older Adults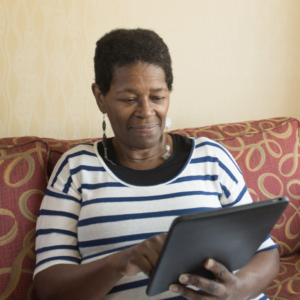 Fleeing Facebook? There's A New Social Media Platform For Older Adults
April 6, 2022
Okay, so the question is, whether and how do you currently use Facebook? Do you check it every morning for the latest updates from your family and friends? Do you count on it to remind you about important birthdays? Do you treasure the shared photos of grandchildren or family vacations that you are now privy to? Do you count on Facebook as a source of support or a platform to find kindred spirits who share your worldview or provide you with updates on topics of interest? 
We each have our own reasons for getting onto Facebook and, as the data show, if you're a Facebook user, you have plenty of company. 73% of Americans ages 50-64 use Facebook, and 50% of Americans age 65 and older are Facebook users. Worldwide 2 billion people use Facebook daily and it's considered the largest social network in the world. More generally, older adults have flocked to social media in the past decade, in numbers larger than other demographic groups. According to the World Economic Forum, social media use among those 65 and older grew fourfold since 2010, eclipsing growth among younger adult populations. As of October 2021, 4.5 billion people were on social media worldwide, with the largest social media platforms being Facebook, Instagram, Twitter, YouTube, and TikTok. What's amazing about social media, and what was absent from our lives a mere 20 years ago, is the ability to now connect with virtually anyone on Earth and share whatever info, thoughts, or images we want to, with as many people as we choose. It's an enormous opportunity for us to create connections and to communicate with others who may never have previously been a part of our lives.
But there's clearly a downside to social media as well. Older adults are known to more frequently pass on or believe misinformation on the web and have also been targeted for scams. Furthermore, many social media platforms (Facebook among them) worry that they have too many older users and not enough new, younger users whom they will need to keep for the long-term health of their business model. Thus, there might be a reason for older Facebook fans to consider alternative social media platforms. And AARP, in collaboration with OATS (Older Adults Technology Service) is right in the mix to provide such a platform, which it is calling Senior Planet Community. The potential advantages of this new platform? It's currently a non-commercial, non-profit endeavor, which means no advertising (and especially no fraudulent advertising) for those ages 60 and over. With a simple layout and safe environment, and the slogan, "Make Friends. Talk Openly. Age with Attitude," the platform is intended to get you connected and communicating with peers who have common interests, such as photography, books, fitness or gardening. You'll be able to join groups, share posts, and comment on others' postings in a safe and secure environment, along with such enhanced accessibility features as larger text and increased text spacing. To find out more, click on your keyboard here.
So should you switch over? Well, currently this new platform has no app, no games, and no ability to connect you to anyone younger than 60, which for many of us is part of the delight and allure of Facebook. The site is really barebones at this point and the number of users is currently minuscule in comparison to Facebook. But the potential may be there for a new, safe and comfortable online space to commune with kindred spirits and find commonalities among your peers. Moreover, with the rules in place on Senior Planet Community, you're likely to encounter more courteous and civilized conversation with more solid grounding and sources for shared information. Our guess? While it may take some time (if ever) for older adults to be completely lured away from Facebook, there may also be room for this "older adults only" platform. To find out more, read here.