Facial Touch-Ups: A New Competitor To Botox Has Arrived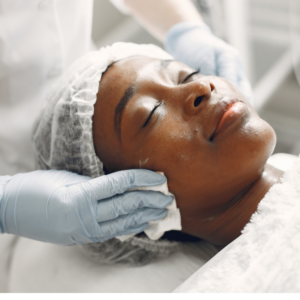 Facial Touch-Ups: A New Competitor To Botox Has Arrived
September 14, 2022
There comes a moment for many older adults, both men and women, when the image in the mirror does not quite square with how you feel internally. And while fine lines, wrinkles, sags, and folds in your facial skin are a natural part of aging, for many of us there's a sharp dissonance between how we present to the world and how we think of ourselves. For some, that leads to the consideration of cosmetic procedures or beauty injections. In fact, a recent poll from the American Society of Plastic Surgeons reflects the fact that more people than ever are considering a cosmetic procedure and consulting professionals about this.
For many, their first thought is to consider a Botox injection, as a mildly but not too invasive step to "refreshing" one's face. Botox has now been on the market for over 20 years and since its introduction, over 100 million vials of this toxin have been sold. In fact, it's the leading brand of "injectable" currently on the market. In a comprehensive post on the top questions you may have about Botox, the website Bustle recently provided information on such Botox facts as how long it lasts (usually 3-4 months), how soon you see results (usually you see the full effect in about a week) and what are potential side effects (usually just mild bruising). To find out more, grab your magnifying mirror and click here.
However, there's about to be a major upheaval in the "injectables" market with the introduction of the first serious rival to Botox. Produced by the manufacturer Revance, this new injectable is called Daxxify. It has been approved by the FDA and is expected to become commercially available in early 2023. While its ingredients are similar to those of Botox and work in a similar way to essentially "freeze" facial muscles, what differentiates it is that the benefits appear to last quite a bit longer than those from Botox. In fact, in clinical trials of Daxxify, patients were still seeing good results (diminished lines and wrinkles) for 9 months after the injection. That's more than 2x as long as the results from Botox. While it has been approved for use on the "frown lines" around the mouth, it may very well be that it will be used "off-label" more widely. To find out more about Daxxify, read here.
Not everyone will be rushing out to try Daxxify, especially as we don't yet know how it will be priced. But if you're thinking about alternatives to Botox and Daxxify, experts warn that you should avoid the current Tik Tok craze of using "facial tape" to "train your skin to lift itself." Dermatologists are clear that not only is such a thing not possible, but you may in fact cause skin irritation and even worsen existing facial lines or wrinkles as a result. Another injectable alternative? There is a growing awareness of facial acupuncture, which uses needles to release tension in the face and encourage collagen production. There is some science to support possible benefits, but more research needs to be done.
Or, as another alternative, you can just accept your facial features as being a reflection of the life you've led, the experiences you've had, and, as Marc Twain once said, an "indication of where smiles have been."