Enhance Your Understanding: The Value Of Hospice And Palliative Care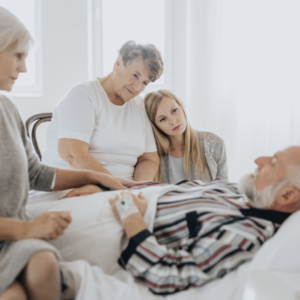 Enhance Your Understanding: The Value Of Hospice And Palliative Care
November 10, 2021
While it may be taboo in some circles, we've never shied away from addressing the important aspects of care and quality of life when it comes to late-in-life and terminal illness. With posts and resources that address the various aspects of end-of-life care, we want agebuzz readers to have access to valuable information that will help you and your loved ones as death approaches. In that regard, and given that November is National Hospice and Palliative Care Month, it's a good time to review some of the important and essential aspects of both palliative care and hospice care. 
First, some basics. While both palliative care and hospice care aim to provide pain and symptom control and to support the physical, emotional, social, and spiritual aspects of illness and suffering, hospice care is specifically geared to the end of life, when curative measures are no longer being sought and quality of life for whatever days remain becomes central. Palliative care, with the same holistic approach to managing pain and suffering, is usually sought when serious illness arises but it can co-exist with the provision of curative measures. Both palliative care and hospice care are delivered by an interdisciplinary team that can include physicians, nurses, social workers, chaplains, grief counselors, pharmacists, and other care providers, and both attend to the needs of the involved family as well the patient. For a good comprehensive overview of hospice and palliative care, read here.
Palliative care can potentially be accessed in hospitals, long-term care facilities, and home care agencies, though not every facility has a palliative care team, and not all insurance providers pay for this type of care. Perhaps the best online resource for explaining and accessing palliative care is the Center To Advance Palliative Care. In particular, they have a resource called Get Palliative Care which provides all the essential information necessary for you to understand exactly what palliative care is, when to seek it and where to find it within your community. With its Frequently Asked Questions section, along with its Palliative Care Provider Directory you can find everything you need to access quality palliative care for yourself or a loved one. You should also reread the terrific post written by agebuzz Guest Blogger Julie Buyon about palliative care.
Despite its long-time presence as a part of the health care delivery system, and despite the fact that over a million people/year receive services from hospice agencies, hospice care remains a mystery for many. While it is true that hospice care is intended for patients with life-limiting illnesses who are expected to live no longer than 6 months (though you can continue on hospice longer if your diagnosis and prognosis continue to meet that definition), the earlier you can access hospice in your late-life illness the better off you and your loved ones will be, as you are more likely to ensure the type of care you receive is in keeping with your wishes, and the quality of your life is the focal point of care. As experts will tell you, "Hospice isn't giving up, it's choosing a better quality of life." Moreover, it's important to clear up any misperceptions you have about hospice so that you or a loved one don't miss out on what hospice has to offer. Some of the most irksome myths that you should shake off? That hospice only happens in a "specific place"- wrong. 70% of hospice care is delivered to patients in their homes, though hospice care is also available in hospitals and long-term care facilities if needed. Or that hospice is only for the last few days of life- wrong again. While hospice is for patients with life-limiting diagnoses, you can and should access hospice care (which typically supplements whatever care you are already receiving from family or paid caregivers) as soon as you and your physicians believe curative measures are no longer beneficial or available for you. Want some other basic hospice questions answered? Take out your list and click here.
Hospice is not perfect. Not every care provider understands it sufficiently to recommend it early enough, and not every hospice agency lives up to the high ideals that infuse a hospice philosophy of care. But overall, a hospice approach to terminal illness and end-of-life care allows for the interests and comfort of the patient to take precedence over other considerations, and grants patients and their loved ones the space to connect and be present for each other during whatever time remains. So when and if the time comes for you or a loved one, be prepared and be an advocate for comfort and quality of life when cure is no longer possible. To find a hospice provider in your area, click here.