COVID Couples: Love In The Time Of COVID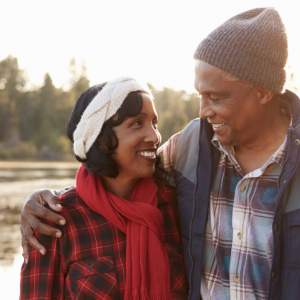 COVID Couples: Love In The Time Of COVID
February 10, 2021
If ever there were a reason for relationships to be under stress, now would be that time. However strong your marriage or long term relationship has been, the pressures from the pandemic- be they financial, physical, emotional, or too much togetherness- have caused even the best relationships to occasionally buckle if not break. Yet as Valentine's Day approaches, there is inspiration to be drawn from couples who have found that the pandemic has propelled them to re-evaluate, reconfigure and recommit to love. 
Take, for example, Betty Conner and Peter Nickless, high school classmates who last saw each other in person in 1967, and who then went on to separate colleges, lives, and divorces. Reconnecting as friends on Facebook, in recent years they discovered not only their old connection but that current interests and passions were common to both. And through endless hours of communication and phone calls, they took the courageous step of reconnecting in person, despite being in their 70s in the middle of a pandemic. As the story of their coupling makes clear, as you get on in years, and face the uncertainties of a pandemic, you don't know what's ahead in the future, so you act fast: and for the last six months, Peter has been happily living with Betty.
Or consider Fred Paul and Florence Harvey, who were young lovers 68 years ago in Canada. Together for 2 years, they then went off to lead separate, happy lives, each marrying with families of their own. But when they both found themselves alone after the deaths of their spouses, a telephone call and shared grief brought them back together. Exactly one year ago, Florence reached out to comfort Fred and that call led to hours of ongoing calls and exchanges. This past July, Florence made the decision, despite the pandemic, to visit Fred and within days thereafter, they decided to marry, which they did in August. With no time to lose and a profound sense of deep love, Florence remarked to Fred, "You were the first young man to walk me home in my teens. I guess you'll be the last man to walk me home now." 
Celebrated stage and screen star Mandy Pantikin and his wife of over 40 years, actress Kathryn Grody have spent the entire pandemic together in their home in upstate New York, somewhat of a departure from their more normal living conditions which had them separated for much of the time due to work commitments. As profiled in The New York Times, their pandemic "adventures" have been chronicled by their son on social media- and despite the close quarters, their relationship seems to have thrived and deepened with a newfound closeness to each other. As Patinkin declared, "There's no question. Being with my family holed up for 11 months has been one of the true gifts of my life." Click here to take a look at some of their hilarious and heartfelt views from their pandemic married life.
Finally, in sickness and in health, till death do us part: These solemn marriage vows have certainly been called upon during the pandemic, and one long-married St. Louis couple demonstrated that commitment and love until both eventually succumbed to COVID. As profiled by Kaiser Health News, Arthur and Maggie Kelley were married almost 60 years. Maggie developed dementia years before and Arthur, who himself suffered from Parkinson's, determined that his wife should never be alone, so he moved into the long-term care facility in which Maggie lived, about 2 years ago. Maggie first developed asymptomatic COVID in August, and after release from quarantine, ultimately passed away in November. Arthur and his children planned her funeral and then shortly thereafter, he, too, was diagnosed with COVID and was ultimately buried in a double ceremony with his wife, less than 30 days after her death.
As writer Maya Angelou has said, "Love recognizes no barriers." And these stories of COVID couples are just a few examples of how love can prevail no matter what the circumstances.