Care For The Long Term: Are You Rethinking The Need For Long Term Care Insurance?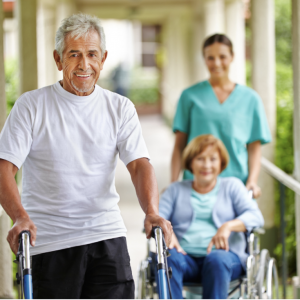 Care For The Long Term: Are You Rethinking The Need For Long Term Care Insurance?
September 23, 2020
The deadly impact of the coronavirus, especially among long term care residents, has certainly highlighted a fact of life that many of us would like to deny or avoid: that is, the difficult decision to have a loved one or even yourself live in such a facility. Infection control measures are often inadequate and the congregate living circumstances can leave one feeling warehoused or isolated. It's no wonder that most of us would rather grow old in our own homes and avoid such facilities. But whether we stay at home or end up entering a long term care facility, one consideration rises above all others: how will we pay for the care we may need?
We've previously addressed the costly nature of long term care but it seems few of us have truly absorbed the facts that: 1) Medicare pays for very little, 2) Medicaid only pays if you're income and assets put you at close to poverty level (and it's only accepted in certain facilities), and 3) Even care at home for just your basics of daily living (cooking, cleaning, toileting, etc.) can cost a fortune. Which naturally might lead you to think of long term care insurance. In this day and age that might be a wise consideration, though you need to know this: Your age and current health status play a significant role in whether you're eligible for such insurance and for the price you may pay. So, for example, even if your diabetes or heart disease is under control, the fact that you suffer from these chronic illnesses may affect your access to long term care insurance- and apparently, if one company turns you down, another may automatically reject you without a deeper dive into your situation. And if you were infected with COVID? Insurance companies may want to wait for a period of time to see how you recover and what the long term impact on your health may be.
Nonetheless, there's no doubt that having a good long term care insurance policy will buy you options in how and where you receive long term care, provided you purchase a policy that is flexible. Currently, it's estimated that only 11% of us over age 60 have a private long term care insurance policy and, in fact, only a dozen or so companies even sell such policies, as they have proven to be expensive for insurers who didn't factor in longevity and whose revenue has gone down because of low interest rates. In fact, the premiums for such policies have risen exponentially in recent years, causing many policyholders to consider relinquishing their policies. But, according to consumer finance expert Suze Orman, that should be a last resort and you should think about other solutions for rising premiums, including reducing your coverage or asking adult children to help cover costs. Which in fact raises one of the basic reasons for purchasing long term care insurance: Along with wanting to protect your hard-earned assets and preserve your choices, buying long term care insurance will likely spare your loved ones the burden of shouldering the costs of your long term care- something that up to 70% of us will need after the age of 65.
So how should you think about buying long term care insurance? Experts urge you to consider such factors as flexible coverage that would allow you to move from one setting to another, depending upon your needs, and whether the policy will allow for payments to "informal" caregivers in your home setting or a partial cash benefit to allow you to stretch the availability of your insurance coverage. These sorts of arrangements are especially valuable to those who want to stay at home- and it's useful to know that in 2018, 51% of long term care insurance claims were for home-based care. There are also now available "hybrid long term care policies" that combine long term care insurance with life insurance so that you have coverage if you need long term care but if you end up not using it, your heirs will get a death benefit. There are pros and cons to such an approach to insurance coverage, but depending on your finances and needs, such a policy may provide peace of mind and extra protection (not to mention money) for your loved ones. Finally, speaking of pros, Suze Orman suggests you turn to long term care insurance expert Phyllis Shelton to gain further insights into this important topic. So put down your policy paperwork and read more here.