Beautiful People: Photography That Shows The Beauty and Complexity of Aging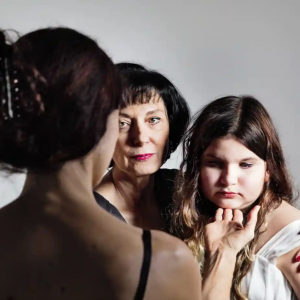 Beautiful People: Photography That Shows The Beauty and Complexity of Aging
February 26, 2020
British author Alexandra Potter once said, "Life isn't complicated. It's very simple, really. It's us who make it complicated." And a good photograph can show us both life at its simplest- a woman's smile, a mother's glance- or life in a more complex realm- such as the challenge of an aging body or the pain of a romance upended. Recently, several women photographers have captured both the simple and complex in their photos, all related to aging, and their portraits are visually stunning and challenging to behold.
First, consider the work of women photographers who celebrate older women. Photographer Dina Mande is currently at work on a project entitled The 50 over 50 Project, observing the wisdom and beauty of women over 50, and inviting women to join her project and allow themselves to be photographed. Her images are glamorous, sexy, confident and glowing, just as the women are in real life. Her goal is to get these images into the public domain so that older women see that beauty and confidence can be a part of any age. In a similar vein, photographer Denise Boomkens started "And Bloom," a project photographing women over 40. Based in Amsterdam, Boomkens has created a website that dispenses photo and fashion advice for older women, and her Instagram account has over 50,000 followers who are treated to her gorgeous imagery of older women. 
On the other end of the spectrum is photographer Elinor Carucci, with her new book "Midlife" which captures personal portraits of herself and her family in ways meant to evoke the complexities of grappling with changing bodies, relationships and emotions once a woman is middle-aged. The images are stark and real, yet there's beauty and seduction to be found as well. From grandparents to gray hair, you can read more about her photography here.
Finally, in the realm of "life not always turning out as you expected it to be," photographer Isadora Kosofsky embarked on a photography project capturing the arrangement and lives of 2 older women and one older man, all intimately involved in a late-life love triangle. Now available in a book format entitled Senior Love Triangle, as well as a film, her work reflects the challenges and complexities that senior women face when older men are in short supply. It's the true story of Jeanie, 81, Adina, 90 and William, 84 and it tests our expectations about love, relationships, and aging. So yes, life can be simple but we humans can certainly make it more complicated.