A Return Engagement: Fashion This Summer Features The Return Of The Housedress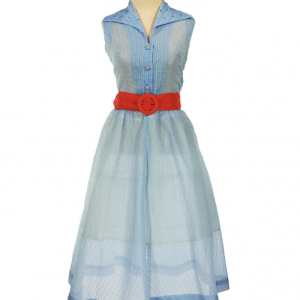 A Return Engagement: Fashion This Summer Features The Return Of The Housedress
July 22, 2020
This far into summer (and the pandemic) you may be tired of the daily routine of sweatpants or shorts. While the motivation to be comfortable continues to be strong, so does the monotony of "the same old same old" you've been wearing for months. As a release, what's been fun to discover is a return to something many of us recognize from our youth (and perhaps remember from our mothers- or bubbes- or nonnas): that is, the simple "housedress" has made a return, albeit with modern updates.
For those of you unfamiliar, the housedress has its modern origins as a 1950s wardrobe staple, though it actually came about much earlier as a comfortable and freeing alternative to corsets and crinolines. For viewers of television during the days of Donna Reed or I Love Lucy, you likely remember the simple dresses each wore around the house doing chores, different from the more elegant ensembles worn when heading out for the evening. In today's environment, where home and work co-exist or life is lived primarily within the confines of your abode, you're likely seeking comfort and practicality, along with something that Wall Street Journal writer Fiorella Valdesolo calls a style "to suggest a housebound mood." The vibe is practical, with pockets and washable fabrics, along with a forgiving shape that allows you to go out for a walk or curl up on a couch in the same outfit. 
But as style writer Alyson Walsh comments on her blog, That's Not My Age, an everyday uniform doesn't need to be a "yawniform." While Walsh touts the benefits of a timeless "shirt dress" as her daily go-to, designers and manufacturers of the modern version of the housedress have been pushing the boundaries of design and style, despite the humble origins of this item. So for example, take a look at the selection of housedresses featured in a recent post from New York Magazine or catch a glimpse of an array of modern versions of the style in a recent Fashionista post. And for truly "retro" looks, take a peek at the website of designer Batsheva Hay, whose frocks were apparently inspired by her grandmother-in-law. Featured in Vogue, they're sure to give you a "past-meets-present" vibe while you're socially distancing this summer.