Off The Beaten Track: Limiting Risk When You're Determined To Travel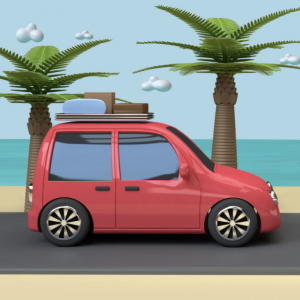 Off The Beaten Track: Limiting Risk When You're Determined To Travel
July 8, 2020
No matter the risk, many of us are determined to plow ahead with summer travel plans, albeit in a scaled-down fashion. While we won't be jetting off to Europe, and many of us are not considering plane travel (for understandable reasons), the road trip remains an allure to many, as does the possibility of visiting relatives we haven't seen in months. So, how to discern whether the rewards of such travel adventures are worth the risk? Probably best to start off with the CDC's updated travel recommendations, which include such considerations as the prevalence of the virus where you live and where you're heading, understanding the risk for those you are traveling with or those you will be visiting, determining whether you can practice safe social distancing at your destination and checking to see whether quarantine is required for out-of-state visitors at the location to which you'll be heading.
If you're considering a long-distance trip, you should know there are some experts who believe it's possible to minimize the risks associated with air travel (such as wearing an N95 mask as well as goggles, and there are even products available to cover your seat and tray table so as to minimize your surface exposure on the plane) but most suggest car travel is safer, though you'll need to consider such things as gloves to don when getting gas and contactless payment for road stops or hotel check-ins. And speaking of staying at a hotel, two environmental experts recently wrote in The Conversation that you should check the American Hotel and Lodging Association guidelines for what kind of risk-minimizing practices the hotel should undertake. They also have practical suggestions for steps you can take while on the road to lessen your exposure, including a good supply of plastic bags to keep such items as credit cards and cell phones sanitary, disinfectant to wipe down high-touch surfaces and finding out whether hotel windows can be opened and housekeepers can be avoided.
Then, of course, the question is, who are you going to visit on your travels? If you're hoping to reunite with older loved ones, there are serious precautions you should take before heading out. Those risk minimizers include reducing your exposure to any possible infection in the 2 weeks prior to your trip, limiting your exposure during the journey (bring your own food and pack the gloves and hand sanitizer for the gas stations) and make sure your bathroom pit-stop is a clean, well-ventilated room). Ideally, you may want to quarantine when you arrive to ensure you didn't carry infection with you. Bottom line? Unless you're willing to take serious steps to limit your exposure (and therefore the exposure you bring to others) you may want to sit this summer out and wait to see if the fall brings any further clarity regarding risk, transmission, and safety measures. Or, better yet, stage a simulated summer adventure in the comfort of your own home!