Move To Lose: New Research Finds Tai Chi Can Help With Belly Fat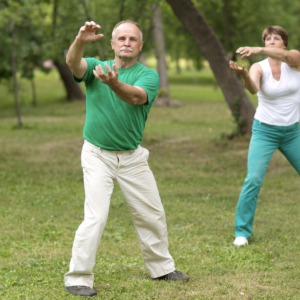 Move To Lose: New Research Finds Tai Chi Can Help With Belly Fat
June 9, 2021
If you weren't before, chances are post-pandemic you may be dealing with the issue of "belly fat." As we've previously discussed in agebuzz, excess weight around your middle is no laughing matter- there are serious cardiovascular and even mortality risks associated with belly fat and it's considered a reliable proxy for central obesity, which puts you at greater risk of developing such serious conditions as hypertension, type 2 diabetes, heart disease, and stroke. Most of us likely imagine that efforts to reduce our waist circumference or rid ourselves of excess belly fat would require strenuous aerobic workouts and strict dietary regimens. The good news, however, is that new research suggests that incorporating a tai chi practice into your daily life may actually bring about comparable results for belly fat reduction without recourse to exhaustive exercise. 
Published in the Annals of Internal Medicine, this randomized clinical trial in Hong Kong involved over 500 participants ages 50 and above, all of whom had "central obesity." Study participants were divided into 3 categories: those who did no exercise, those who did such conventional exercise as aerobics or strength training, and finally, those who engaged in tai chi. The group doing tai chi met with an instructor for one hour a day, 3 days a week for 12 weeks. The study results revealed that those who did conventional exercise and those who did tai chi during the study period had comparable drops in waist circumference (as well as more favorable levels of HDL good cholesterol). 
As we've previously noted in agebuzz, tai chi, popular among Asian cultures for centuries and now practiced by over 2 million people in the United States, has long been known as a valuable method of improving stability and balance in older adults, as well as a method to reduce back and neck pain. With its gentle mix of stretching, movement, and mindfulness, it also appears to help with stress reduction and is an ideal exercise for those who have more limited mobility. With this new study, we have further evidence of the weight management and weight loss benefits of tai chi, though further research needs to be conducted to better understand precisely how tai chi achieves some of these benefits. Nonetheless for those unable or unwilling to participate in conventional aerobic exercise, tai chi may be just the activity to help keep you upright, fit and more trim going forward. For some recommendations of well-rated tai chi classes available online, stretch out your arms and click here.