Let's Talk Transmission: Protecting Yourself From Coronavirus Infection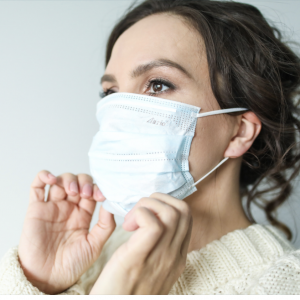 Let's Talk Transmission: Protecting Yourself From Coronavirus Infection
August 12, 2020
While our knowledge of the coronavirus and its impact are still evolving, there's much we know at this point to practically keep ourselves safe. We know with some certainty, according to Dr. Lydia Bourouiba, Director of the fluid dynamics of disease transmission lab at MIT, that COVID-19 is transmitted mostly through the respiratory tract, either through breathing out, talking, coughing or sneezing. To minimize the transmission from one person to another means we need to be careful how close we are to one another, how long we are exposed to others, how many people are in the space that we're in and what types of protections are in place to minimize contamination, both of the air and surfaces. And we also know that of all the personal protective gear and behavior we have on hand, there's full agreement in the scientific community that the face mask is the key item for everyone. As infectious disease specialist Luis Ostrosky bluntly states, "There's no doubt it (a mask) works. It's our most clear pathway out of this."
We also know that there are 3 types of viral transmission: First, there are infectious droplets that are expelled when someone sneezes, coughs, sings, yells, or even talks, and these droplets can be absorbed by others through the mucous membranes of the mouth, nose or eyes. The droplets tend to fall to the ground within 6 feet of their source. For a video demonstrating how viral transmission can occur via a sneeze (which can potentially travel up to 26 feet), pull out your tissues and click here. Second, there can be contamination of surfaces with infected droplets. To become infected from a surface you would need to touch that surface and then touch your eyes, nose, or mouth. Third, despite some controversy, there is the growing consensus that the virus can be dispelled from the body and be transmitted to others through airborne transmission, where tiny particles of the virus will linger in the air and be absorbed by others present in that space. This means that indoor settings, especially those with poor ventilation, can transmit the virus to many people. 
Regarding the indoor spread of the virus, which is an increasing concern as cooler weather approaches, there are definitely mechanisms available to limit or even prevent the spread of the virus indoors, by either bringing in fresh air or by removing the virus from the air inside the building (along with other protective behaviors such as distancing and mask-wearing). Obvious suggestions include opening doors and windows wide or having commercial HVAC systems that can pump outdoor air inside. The more people you have inside, the faster you need to bring in fresh air, which is why indoor activities such as concerts or even schools pose a danger if their ventilation systems are not up to the task. And regarding contaminated surfaces, the wisdom these days is to not wear gloves (which can, in fact, spread pathogens themselves) but to instead not touch your face if you touch a contaminated surface- and either use hand sanitizer or wash your hands as soon as possible.
Finally regarding the mask: There's just no dispute that by wearing a mask you will reduce the spread of infectious droplets and aerosols to the people around you. And now there's evidence that wearing a mask is not just an act of safeguarding others from you (and recognize you can spread the virus even if you are totally asymptomatic) but wearing a mask will protect you as well, and may even lessen the severity of your illness if you become infected or may actually even prevent infection altogether. While the CDC recommends wearing a mask in public settings when around people outside your household (in addition to social distancing) the continued spread of the virus is such that there are even now expert suggestions that you may want to wear a mask in your home if you live with others who have high susceptibility for severe disease. And what about the kind of mask? New research seems to suggest a variety of commonly available masks, including homemade cotton coverings, can be effective in preventing spread of the virus. The only exceptions to this were bandanas and neck fleeces, that didn't seem to stop infected droplets much at all. So put on your mask and see more here. And if you're finding that you encounter many who aren't wearing masks or taking precautions, check out some good advice about pandemic etiquette here.