Dress For Yourself: Fashion Insights From Women Who Know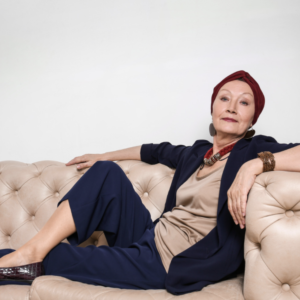 Dress For Yourself: Fashion Insights From Women Who Know
September 8, 2021
Having now celebrated her 100th birthday and just introduced her own line of eyeglasses, Iris Apfel has been around the block a few times and knows what she likes. While her philosophy of dressing has always been "more is more and less is a bore," she also knows that not everyone can or should carry off her maximalist approach to clothing, colors, and patterns. But with the wisdom and confidence that can only come from decades of figuring out what works for you and what doesn't, Iris has one piece of advice that's universal and valuable for us all: Dress to please yourself and no one else.
Along those lines, then, it's interesting to see what other fashionable older women do to please themselves when it comes to clothing. Alyson Walsh, the founder of the website That's Not My Age, recently described the evolution in her thinking about clothes when she allowed her hair to go gray. It gave her a reason to expand her color palette and try out new prints. As she writes, "Brilliant hues and an eye-popping colour clash can look fabulous with grey hair. Ditto a bold lipstick. But there's no need to go all-out if theatricality is not for you." And that's just the point: What appeals to her may not to you, and no one should be judging your choices. As Alyson concludes, "The best thing about growing in the grey and being a woman in midlife is the increased confidence and authenticity that comes with age. Oh, and not giving two hoots about what other people think." But if you do like her style, and want to emulate some of her choices, you may want to check out her new curated selection of clothing and accessories that she herself had a hand in designing, now available for purchase on the That's Not My Age website!
Erica Baird, one of the stylish founders of the "re-inventing retirement" website Lustre, has also allowed her style to evolve and change, along with her life and passions. No longer needing to look "corporate" (although always stylish), Erica has recently become an enthusiast for athletic and fitness wear, not only in the gym but in all aspects of life, as seeking out comfort and practicality becomes more important. She recently posted about her newly found love for the brands Allbirds and Athleta, not only for their style and comfort but because these brands embrace values important to her. And if you're looking for more opportunities to emulate a stylish older woman, you may want to check out some of the branded shirts, totes, and hats now on the Lustre website!
So the bottom line is to let yourself play, experiment, and test out what works for you and what brings you pleasure and joy. And don't worry about the artificial rules or parameters that are supposed to dictate what a person your age is "supposed to wear." As the ever eclectic centenarian Iris Apple says, "When you don't dress like everyone else, you don't have to think like everyone else."