Double Up: Innovative (And Less Expensive) Housing Ideas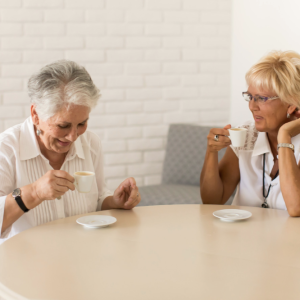 Double Up: Innovative (And Less Expensive) Housing Ideas
March 2, 2022
It's tough out there. With the world in turmoil, inflation rampant, and COVID still present, no one knows for sure what tomorrow brings. But many of us do know that no matter how much we planned or how much money we saved, we may still have trouble supporting ourselves in the years to come. Money is tight and the search for additional income or savings is ever-present. One possible area for leveraging more income (or saving more money) may be with your housing. Whether you're a homeowner (as approximately 80% of boomers are) or a renter, you likely face questions about what you can afford, where you should live, and what kind of arrangement makes the most sense. As many are beginning to realize, your home (or someone else's) may be an untapped asset for generating more income- by either welcoming in housemates or roommates, or even creating another dwelling unit on your property.  A recent article on Yahoo suggests that sharing your home this way may be the equivalent of generating the same income you'd earn from a part-time job – and you may get companionship and practical household help to boot!
The idea of sharing your home with others may at first sound off-putting- your privacy may be jeopardized or your lifestyle may be scrutinized- but there are a lot of benefits, and the arrangement is becoming more and more popular for older adults, especially those who are new empty nesters, widowed or divorced. These days so many, especially those on fixed incomes, are in need of affordable housing, and home-sharing is an option that helps the homeowner increase monthly income while providing a renter with an affordable home. Typically, it involves 2 people previously unknown to each other, and there are now plenty of entities (such as Silvernest and Nesterly) that help vet and match roommates, depending on what each is looking for. Many communities also have not-for-profit organizations that help with matching what are sometimes called "boommates" – and as the practice of home-sharing gains prominence, more older adults are open to the idea. In addition to the cost-savings inherent in house sharing, there may come the sort of companionship and practical household help that many of us longed for during the lonely months of the pandemic. For more information, insights, and resources to consider about the home-sharing option, click here.
Alternatively, your home may sit on a property that may have room for an additional dwelling- if your local zoning codes permit this sort of construction. A recent article in The New York Times described the movement in many areas of the country (such as Los Angeles, Seattle, Austin, and now a growing number of east coast areas, including Princeton, NJ) to permit Accessory Dwelling Units on single-family zoned properties, often in a backyard behind the main home. Usually detached from the primary home, these small units (also called granny flats, in-law suites, etc.) offer an affordable housing option for anyone who wants to downsize, while generating income for the primary homeowner. If you're an older adult wanting to "age-in-place" it may be the ideal way to stay in a community while giving up the burden (and expense) of maintaining a larger home. For many, it provides a way to allow for multi-generational living in one setting, while giving each person a measure of privacy and autonomy. There are even prefabricated dwelling units that can be easily installed without the mess and headache of new construction. While there are logistical challenges to making such an arrangement work (privacy concerns, storage limitations, etc.) such smaller housing options may be a win-win for communities in need of more housing, homeowners in need of more income, and older adults in need of an affordable home. In an era of financial constraints and social isolation, it's an arrangement whose time may truly have arrived.