Do Your Own Thing: Post Pandemic Fashion Trends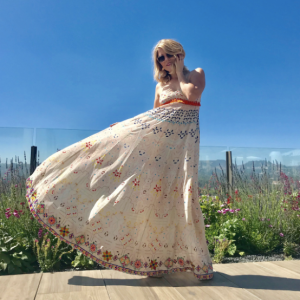 Do Your Own Thing: Post Pandemic Fashion Trends
June 16, 2021
You may remember that last summer was the summer of the house dress or the nap dress, an item of clothing that reflected our uncertainty about whether we could leave the house and how casual we could dress, given the times and circumstances. This summer may instead be all about the "buffet dress," an item that was heralded on The Great British Sewing Bee show on the BBC and that can be "loosely" defined (pun intended) as a voluminous, tiered, loose-fitting dress that can hide your lockdown excess weight! Few of us are likely to go back to fitted waists or slim-cut zippered pants, yet may be craving a prettier look to dress up our entrance into real life again. Dresses are back and seem to be bigger than ever. In fact, according to fashion expert Alyson Walsh from That's Not My Age, the buffet dress is an "easy-breezy" dress and surefire way to keep cool in the heat, and an idea with which you should allow yourself to experiment. As Walsh states, "We convince ourselves we cannot wear certain items of clothing without even trying them….Time to give ourselves a style break." For more on her urge to experiment and some additional "buffet dresses" to consider, stand in front of your mirror and click here.
Experimentation and comfort with your own idiosyncratic style, rather than the dictates of someone else, seems to be the new mode of dressing for post-pandemic stylish women. As nationally recognized stylist Lisa Hale, of the Silver Stylist blog, emphatically states, "I'm 59, I do my own thing." And this attitude of fashion boldness and individuality was also recently heralded in The Ethel, a lifestyle blog from AARP to celebrate older women who want to own, rather than hide from, their own age. In a recent post on The Ethel, writer Kim Marcum commented that as older women, "We no longer worry about coloring outside the lines but instead ask ourselves how far out we want to go." While acknowledging the ABCs of fashion (accentuate, balance and camouflage), women, Marcum states, are now free to change- or not- their style however they are comfortable when it comes to presenting themselves to the outside world.
And about that individualistic style- it turns out stylish grandmas and grandpas are themselves setting fashion trends among younger "twenty-somethings." (For one such source of trending fashion, refresh your memory with a look at our post featuring the book "Chinatown Pretty.") In a recent article in the Wall Street Journal, "grandpa style" as reflected in such Instagram accounts as "Gramparents," reflect the fact that younger stylish guys and gals are picking up some fashion cues from those of us who are older. While much of the credit for shining a light on "elder style" goes to Ari Seth Cohen and his "Advanced Style" movement, others are now not only shining a light on older stylish adults but are even emulating them by dressing in a similar manner or creating lines of clothing suggesting the fashion sensibility of an elder wise one. As one example, take out your bucket hat and check out the new clothing line by Another Aspect, done in collaboration with the creator of "Gramparents," Kyle Kivijarvi.