Dire Circumstances: Dealing With The Pandemic In Nursing Homes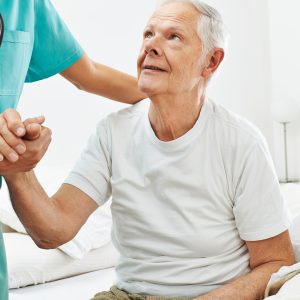 Dire Circumstances: Dealing With The Pandemic In Nursing Homes
April 29, 2020
As difficult as this pandemic has been for patients, caregivers, health care workers, and the population as a whole, nowhere has the devastation and distress been worse than in long term care facilities, especially nursing homes. Starting with a frail and vulnerable older population, compounded by already existing staff shortages and insufficient infection control, worsened by the intimate contact between and among residents and staff, and exacerbated by residents and visitors cycling in and out of hospitals and the community, it would be almost impossible to create a better environment for the COVID-19 virus to thrive, as it penetrates and imperils millions of Americans in these facilities. 2.5 million Americans live in nursing homes and long term care residences, and even before the arrival of the coronavirus, 380,000 long term care residents died each year from infections within these facilities.
The arrival of COVID-19 is shining a light on the fragile and failing system we have in place to care for our older adults who can no longer care for themselves. And the numbers of nursing home residents now infected with the coronavirus, and dying, is horrendous, as it continues to grow. Estimates now stand that over 10,000 Americans have died of the virus in long term care facilities so far, and in Europe, it appears that half of all COVID-19 deaths are linked to nursing homes. Even these estimates are likely undercounting the actual number of deaths connected to the virus. For many weeks into this pandemic, the CDC was not even keeping track of deaths connected to nursing homes, though a recent directive from the Center For Medicare and Medicaid Services now requires nursing homes to report coronavirus cases to the CDC and to be more transparent with residents and families about the reported cases within the facility. However, as in many other places, the availability of testing for COVID-19 is inadequate in most long term care facilities, so it's likely that the number of actual infections is much larger than is currently reported. And a recent study published in The New England Journal makes clear that the virus is being transmitted through asymptomatic patients in long term care, so containment efforts cannot solely focus on the sick.
Infection control problems have contributed to the large numbers of infections and deaths in nursing homes and assisted living residences. Even such simple strategies as hand washing have long been a problem in these facilities, with infection control problems being the #1 cited deficiency when inspections take place. As well, few if any facilities were set up to deal with the acuity and numbers of very sick residents that quickly escalated as the virus spread. Most facilities lack sufficient protective equipment and training for staff to deal with such ill patients and many lack the wherewithal to isolate infected patients and test all residents, both those who are symptomatic and those who are not. In essence, even the best facilities have not been reimbursed or designed to deal with the sort of infection containment you would hope for in a pandemic. No matter how good the quality of care is in a facility, the staff is unlikely to have the skills and resources to match the ferocity of this virus among vulnerable older adults.
As a family member, what can you do if a loved one is in a nursing home or assisted living facility? While there are valuable questions to ask the facility about their infection control efforts and their staffing ratios, in the current crisis those questions may not yield any useful results. Many have pondered whether to bring their relatives home from such facilities. The challenge with that decision, however, depends upon the status and needs of the resident and the resources available in an alternate setting. Nursing home residents have significant physical and cognitive needs, separate and apart from their vulnerability to the virus. Questions to consider: Could you ensure sufficient social distancing? Could you or hired help provide the level of support and care your loved one would need? Are you prepared for the potential for many months of supporting your loved one at home?
There have been some facilities that have tried to meet the moment in terms of supporting their staff while protecting their residents. For example, some facilities have recognized the need to boost employee morale or lessen employee burdens by providing food and supplies and by employing creative strategies for more protective equipment. They've also moved to isolate infected patients and address the lack of human interaction, with video chat tablets, for example. But the horrors of what residents and staff are currently going through will take a long time to recede. And many facilities have been caught in the crosshairs of state mandates forcing them to admit COVID-19 patients who no longer need the intensive care of a hospital but may still have significant medical needs and still be capable of transmitting the virus. Long term care staff have also not received the public praise that's been offered to hospital staff workers, and their already difficult jobs have been made worse with colleagues sick and dying as well as the deaths of beloved residents. 
There are immediate steps that can be taken to lessen the damage on residents and staff. Among the suggestions?  Limiting staff from working in more than one facility and imposing consistent staff assignments so that protective equipment demands are lessened and residents are not exposed unnecessarily to a range of rotating staff. Going forward, what will need to happen? Once through this crisis (with uncertain timing and untold damage to address), there have been calls for increased policing of existing regulations, strengthened oversight of facilities and staffing mandates, as a start. And when this pandemic ends, the need to re-imagine and re-commit to the safety and security of long term care residents should be front and center in our rebuilding efforts.