Celebrating While Social Distancing: Some Father's Day Gift Ideas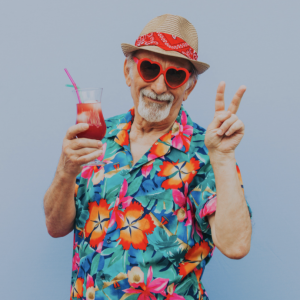 Celebrating While Social Distancing: Some Father's Day Gift Ideas
June 17, 2020
No matter what your age or circumstance, this coming Sunday's Father's Day celebration is likely to be unusual. Many of us won't be able to spend time in person with beloved dads or granddads, and many of us are in no mood to celebrate, given illness, activism, or financial limitations. Yet at the same time, the current environment has underscored the importance of family and just being there for one another. So, from that perspective, this may be the perfect time to make sure your dad or granddad knows he is loved and appreciated for who he is and what he's done.
A recent article in The New York Times recommends that this is the year of handwritten letters and notes of appreciation. The more personal, the more meaningful, and perhaps there's no better time to recall special memories with handmade, personalized gifts or even (virtual) family gatherings in celebration. On the other hand, it may be just the time for a little purchased treat, given the deprivations many of us have undergone in the past few months. So, if you're looking for lists of gift items, take note of the suggestions from CNN and Good Housekeeping, or for some more unusual items, take a look at the offerings on My Modern Met and Uncommon Goods. Of course, if there are any food fantasies lurking in his mind, you may be able to satisfy them by ordering from Goldbelly or finding a fantastic snack mix at Nuts.com.
If you're thinking about something practical to meet the current moment, consider the amazing list of mask suggestions for the stylish man on Esquire, or consider a pulse oximeter, for a little preventive and proactive care. Or for those dads and pop-pops who have become home-based gym rats, what about a set of easy to use and non-slip weights or a comfortable yoga mat. Finally, if all that tv viewing and movie streaming has left your guy complaining about not hearing well, then grab the latest hearing-assisted headset called "Hearphones" from Bose for him. 
Wherever you are and whomever you're with on Sunday, we wish all the dads and granddads and father figures a Happy Father's Day!