The Joy of Writing Poetry Now! By Kathleen Rehl
By Kathleen M. Rehl, Ph.D., CFP®, CeFT® Emeritus 
I'm 73 years old, and I want to have more fun! With my new husband, family, and friends. Keeping fit. Writing. Enjoying art. Helping nonprofits. 
This includes writing poetry. I love the whole process of being inspired, composing, and sharing my creations. Although I write mostly for my own enjoyment, two of my poems have been published. 
Creative activities like this help me manage changes in my life. That's why I wrote a lot in my journal after my late husband's death years ago. Later it expanded into writing a book to assist other widows. I also did shorter pieces for professional and popular publications. You might say writing helped heal my emotional pain.
How and why I began penning poetry
Three years ago, I started drafting poems. My life was evolving in new directions, and I wanted to express my feelings and thoughts differently than only with the prose approach I used before. Since I enjoyed reading poetry, I wanted to learn how to create poems. As a novice, I enrolled in a local college lifelong-learning course. Taught by a retired and engaging high-school English teacher, those weekly sessions for fledgling poets and a few published authors were excellent ways for me to start composing verses.
During the course, I learned about different poetic devices to express my ideas and emotions through sound, rhythm, rhyming, repetition, comparisons, exaggeration, imagery, alliteration, allusion, personification, and consonance. We practiced several poetic styles including free verse, ballads, sonnets, haiku, acrostics, shape poems, list poems, and even rhupunts. (In case you wonder, that's a Welsh verse form with some rather rigid rules). All this benefitted my brain. Writing poems makes me craft words better. Indeed, studies show that reading and writing poetry boosts cognitive health. Might help fend off Alzheimer's, too. Terrific side effect!
Over the past three years, I've continued with several poetry classes including a few free online courses. More recently I participated in virtual live-stream poetry reading gatherings. I look forward to when I can return to in-person poetry readings at bookstores and café open mic nights.
Since the pandemic began in early 2020, I've authored several poems with change as a theme. That has helped me manage shifts in my Covid-19 lifestyle, especially as I focus on what matters most.
Two sample poems
Here's my most recent verse—Transitions Told by My Swimsuits. It's written in free verse style, with no rhyming intent. Often this is an easy form for new poets.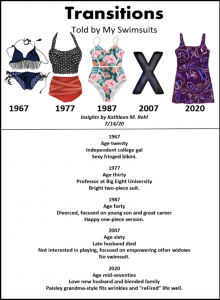 Inspiration came from buying a new age-appropriate swimsuit for my mid-seventies body. That led to remembering prior outfits and how those fit me through the years. (Please click here for a larger version of this poem!)
Here's a poem about my four-year-old grandson, Christian. It's written in a simple haiku style. First line has five syllables. Second line adds seven syllables. The final line has five. This fun form is a quick way to create a poem.
This poem was born when my grandson asked me a question. His family dog and favorite stuffed animals were a special addition, as shown in the photograph. Indeed, I often pair pictures with my writing.
A few tips for composing your poems
– What's your inspiration to draft a poem? Maybe it's something about a family member. Or a pet. Perhaps a focus on your garden or a hobby. Might be a memory from the past. Could be a birthday or other message for a friend. Possibly it's an event evoking strong emotions.
-Use helpful free resources like Rhyme Zone as you write. There you'll find rhymes, synonyms, adjectives, and more.
-Read your poem out loud, which is different than saying it in your head. This may provide insight about the rhythm you like.
-Revise your poem. After writing a first draft, set it aside for a while. When you come back to it later, you may find parts you want to change.
-Keep an idea file for future poems you might create.
-Write regularly. For me, early in the morning is best, but your preferred time may be later in the day. I aim to complete two or more poems monthly.
-Read other poets. You can easily do this by subscribing to a free service from the Poetry Foundation's Poem of the Day.
-Share your poems with selected friends and family. Ask for their comments, which also may encourage your writing.
-Print and frame one of your poems to hang as a piece of art, which it is.
-Consider your poems as part of your Legacy Lifeprint. You can give loved ones a precious treasure, which is a legacy of who you really are—in part with stories told through your poems.
____________________________________________________________________________________
Kathleen M. Rehl, Ph.D., is a Certified Financial Planner™ and author of Moving Forward on Your Own: A Financial Guidebook for Widows. Happily "reFired," she enjoys time with her new husband and their blended families . . . plus assists several nonprofits. Her work has been featured in the New York Times, Wall Street Journal, Kiplinger's, CNBC, USA Today, and many other publications. Check out her website at http://kathleenrehl.com.