Beyond Caring: Finding Help And Support As A Caregiver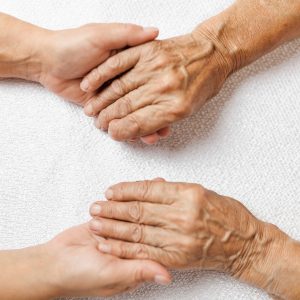 Beyond Caring: Finding Help And Support As A Caregiver
July 24, 2019
For most of us, as we get older, we're either in need of caregiving or performing caregiving tasks ourselves- and sometimes both.  As we profiled back in April, AARP recently issued a report that stated there are 20 million caregivers in the US performing complex medical and nursing tasks, tasks largely handled by unpaid family members working at home, alone and often without sufficient training. That's an enormous number of people providing care and people needing care.
A recent story on NPR by Dr. John Henning Schumann recounted his own experiences of becoming a caregiver for his ailing father.  Despite his advanced medical knowledge, he too was surprised and overwhelmed by the responsibilities, stating, "No one is prepared to become a caregiver. It just happens." Schumann offers this essential piece of advice: "One thing I've learned is that when help is offered, it's important for caregivers to accept it." That's advice underscored by writer Katy Butler, author of Knocking on Heaven's Door: The Path to a Better Way of Death, who recommends looking for help in "bite-sized pieces" as well as by authors BJ Miller and Shoshana Berger (in their just-published book, A Beginner's Guide To The End: Practical Advice For Living Life and Facing Death), who recommend finding that critical friend to organize assistance for such essential tasks as food shopping, cleaning and helping with appointments. And, of crucial importance: make sure you find that certain someone whose task it is to just check in on you. But one cautionary note: Psychologist Heidi Grant warns that there are also ways NOT to ask for help– like reminding someone they owe you the help or how rewarding they'll find it if they do. Better to be candid and grateful than to minimize or undersell the scope of what you're asking for.
In addition to accepting some assistance from others, you may just need a safe space to share the burdens you bear and find others who understand your situation. Over at MemoryWell News for the Ages (a news and information source for family caregivers), you can read about the growing number of "Daughterhood Circles" arising, allowing women in the community to come together to support each other as they bear the burden of family caregiving. The idea for these arose from the work of Anne Tumlinson, creator of the website Daughterhood, which is devoted to women handling caregiving responsibilities for their aging parents. You can find out more about this website, and the availability of Daughterhood Circles in your area, by clicking here and check out the Daughterhood Facebook page here.